A Guide On Some AO Rated Games For the PC Platform
Differences Between ESRB and PEGI
The two main bodies responsible for classifying and rating video-games are the ESRB and PEGI boards; game-ratings are based on violence, sexual content, realism and many of the factors which similarly determine motion-picture rating.
Though both bodies are preoccupied with suitability and inappropriate content, there are fundamental differences between how both organisations evaluate what is deemed to be unsuitable; these differences are particularly evident when dealing with sexual content in games, where the PEGI system is less strict than ESRB.
Some of the games which will be listed in this article, like "7 Sins" or "Playboy The Mansion," have been given an "AO" or "Mature" rating, while PEGI deemed them suitable for ages 16 and upwards.
The point of this article is hardly to bash the puritanicals or discuss the content-rating systems however; here we will list those AO rated games, deemed to be suitable for adults only, with a particular interest in games featuring even mild sexual-content.
Read on if you are merely curious, or interested in which titles are considered too obscene!
7 Sins - By Monte Cristo
This is a game which was released by the now defunct Digital Jesters, publishers of games like "D-day" and "Sherlock Holmes: Case of the silver earring," which plays a lot like a spiced-up version of the "Sims" with some hilarious cut-scenes and game-play moments.
The basic concept here is to sin by way of various actions, which will not be listed for obvious reasons (i.e. panty-sniffing or having sex with your customers), and then subsequently repent from these evil-doings in order to commit more sins.
The GUI's main feature is seven circles representing all the deadly sins, which will eventually fill-up so that no more bad deeds can be committed; once this happens you need to do something good in order for the slots to free-up again.
The game itself isn't actually bad, at least compared to some AO rated games, nor is it particularly explicit; rumours say it was banned in the US, although there is only evidence of it being restricted to mature audiences and rated "M."
Singles: Flirt Up Your Life - By Rotobee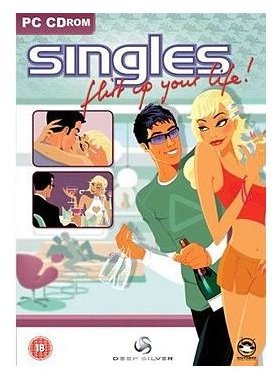 Another Sims clone, though this time there aren't even subtle differences in any game-play aspects; this plays and looks exactly like the sims except for the hefty sexual-content featured.
The game was developed by "Rotobee" and published by the German company "Deep Silver," of "Risen" and "Gothic" fame. Two versions were released: one featuring slightly less risqué content and rated for mature audiences, while the other "AO" rated version featuring full nudity and stronger sexual scenes.
It is debatable what is considered "strong," particularly in a game: "Singles" was rated 16 by PEGI and "AO" by ESRB.
Playboy the Mansion: Private Party – By Cyberlore Studios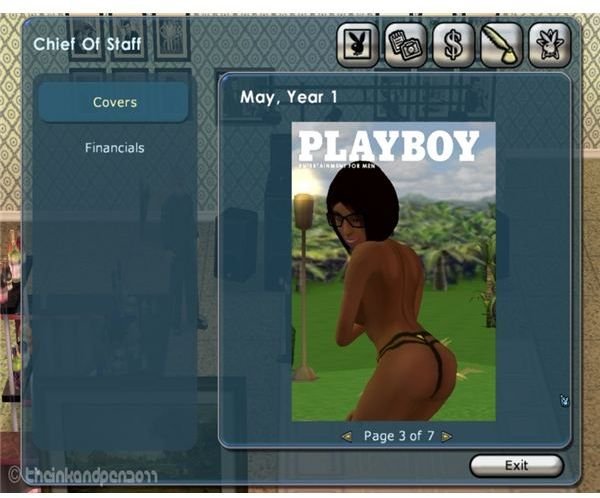 Here is the expansion to the original "Playboy the Mansion;" the original game was rated as "Mature," while "Private Party" was deemed to be suitable for adults-only due to full nudity, as opposed to the partial nudity present in the vanilla game, and sexual scenes. Private parts are blurred during animations, so even here the rating is debatable.
This is yet another game similar to the "Sims" (imitation the sincerest form of flattery?) which sees the player as Hugh Hefner in the mere beginnings of the Playboy Empire. There are various management aspects such as hiring staff, organizing parties and fund-management; probably the best aspect of the game is the fact you get to choose your own snapshots for the cover and centrefold.
In short a half-decent game with breasts aplenty, for those who've always wondered how it would feel to live like Hef.
Leisure Suit Larry: Magna Cum Laude – By Sierra
If you are a fan of video games, or have played games of all sorts as long as I have to the detriment of my eyesight, you should at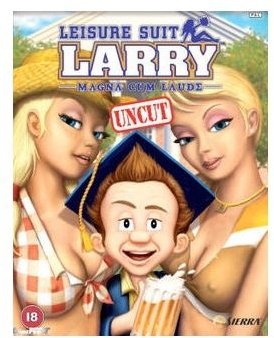 least have heard of Sierra and "Leisure suit larry." This largely successful franchise was frowned upon by many, at least back in the era when video-gaming was still for kids (source: a certain ESA survey).
The uncut version is rated AO and features full nudity, sex scenes and a number of minigames in which you can prove Larry's virility. It does not quite match-up to its predecessors but its worth a look if you want to laugh at cheap innuendos and the like.
ESRB slapped an "AO" rating on the uncut version for strong sexual content, mature humour and related filth. It's worth noting that only one version was released in Europe, featuring the same full, unedited content as the "Uncut" one.
Lula 3D – By CDV Software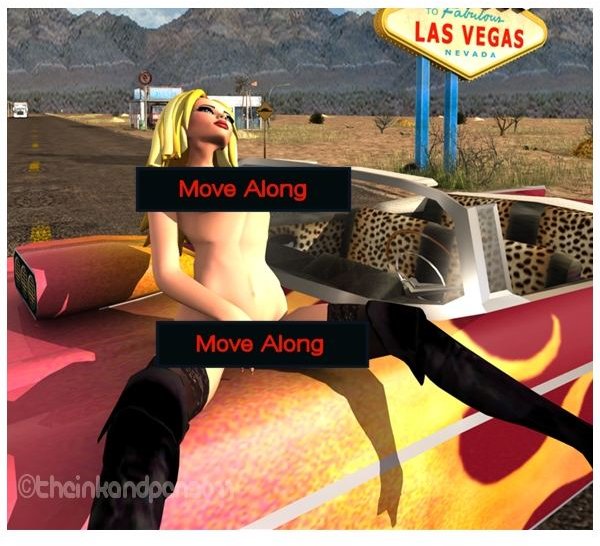 Probably one of the few AO rated games which fully justify the decision, yet deemed strangely compelling by a pseudo gonzo-style article in PC Zone, and other magazines.
Lula 3D is essentially a point-and-clicker, employing the latest cutting-edge "Bouncing boobs" technology. The game features explicit nudity, sex-scenes worthy of any porn and air-headed girls. The point of the game is, in fact, to gather your missing actresses in order to shoot the ultimate porn-movie: deep minds at work here.
Despite that this game seems to find a cult-following, particularly in the Hentai gaming-scene. The title was rated explicit by both boards, and understandably so.
Eroge, Hentai and Visual Novels
Titles from this genre, originating from Japan, were purposely not included here; they aren't really as shocking in Japanese culture, and there is a solid market for them in their country of origin. Most of these titles, like "Sexy Beach 3" or "Tokimeki Check-in!" aren't available in Europe or America, or can be bought as imports only.
Some of these titles are playable, others are outright strange and, yet, others feel more like psychological experiments rather than a gaming experience. I would comfortably include "Water closet" in the latter description.
Notable titles include: "Critical Point," "X-Change," most titles by "Illusion" and independent visual-novels like "Sexual Fantasy Kingdom."
Keep an eye on this article for further AO rated games and additions: meanwhile, remember that you may go blind, so play at your discretion.