Superstars V8 Racing Review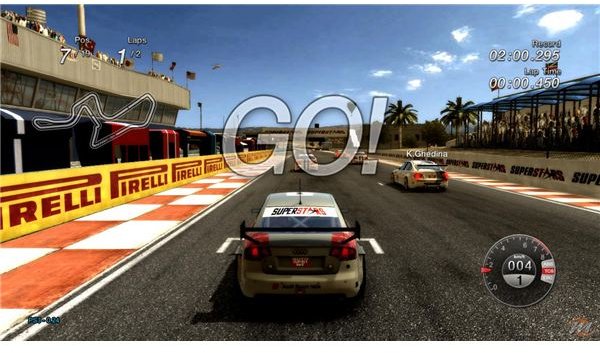 Is the Driving and Game Play in Superstars V8 Racing Fun? (4 out of 5)
The driving is the most important aspect in a driving video game and they have done an excellent job of making the driving extremely entertaining and challenging. The driving is precise and sharp, with accurate and realistic racing pull and braking slips that will ensure you stay alert at all times while driving. All the bumps on the tracks and other effects are handled beautifully and help to increase the difficulty of keeping the shiny side up, to use a racing turn of phrase. All the individual cars have their own driving characteristics that have been reproduced at a believable level and add a nice level variety in the driving. The car tuning and telemetry are basic, with only a few options available, but the ones included noticeably effect the driving and you'll be able to shave whole seconds off your best time. A few options that have understandable and noticeable effects beats an endless list that is just there to distract you, hands down. Keep reading to find out what else the game does right and where it veers off in this Superstars V8 Racing review.
The Bad Parts of Superstars V8 Racing (2 out of 5)
Superstars V8 Racing isn't as detailed or deep a driving experience as video games like Dirt or Grid. They didn't include many things we have come to expect in our racing adventures. You won't see a nice view of the cockpit of your vehicle. There are no environmental effects to change the physics of the racing and provide you with a little more variety. The damage physics included don't realistically model the effects of crashes at 200 mph. In this otherwise realistic driving game they'll bounce off of each other, rather than take each other out.
The worst part of Superstar V8 Racing is that there's really only one style of driving for you to compete in. There's no Japanese drifting or the high powered racing like you'll experience with Grid, Fast and Furious or Dirt. This is something of a niche games for fans of a somewhat esoteric league… Though one that admittedly features absurdly powerful, big, lurxury sedans on Europe's most famous circuits tradin' paint like good ol' boys on an oval.
This title also needs a better multiplayer option to help entertain you and your friends. There's no LAN option offered, only a 16 player online scenario for you and your friends to try. The online multiplayer option can be more fun than the single player mode if your friends are talented racers. This is because the AI in the single player mode isn't as good at racing or as aggressive as you'll experience in other racing titles you can play.
The Fun Parts of Superstars V8 Racing (3 out of 5)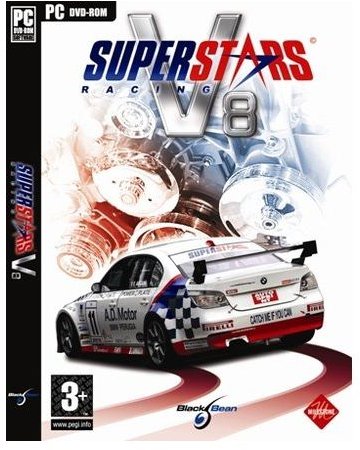 Superstars V8 Racing is a new racing title in a cut throat business, so where does it differentiate. Centered around the European V8 racing circuit, Superstars V8 Racing features the V8 driver roster and big name engines. You'll be listening to and driving cars produced by Jaguar, BMW, Audi, Maseratti, and Peugeot, to name a few, in full race configuration though, so foget about the heated, power, Connolly leather, seats. You'll find yourself better served with side-bolsters and six point harnesses anyway considering the G-loads occasioned by ten different European real world-modled tracks. Cup holders don't do much good in Monza'a Parabolica.
Hardcore gamers are going to love the realistic driving physics and tire slip included in Superstars V8 Racing. The driving is very challenging and winning is difficult to achieve, but when you do win the feeling of satisfaction is amazing. You need to stay alert at all times while racing if you want to win because the driving is precise and sharp, and, if you make a mistake the game will make you pay for it.
The Graphical Presentation of Superstars V8 Racing (4 out of 5)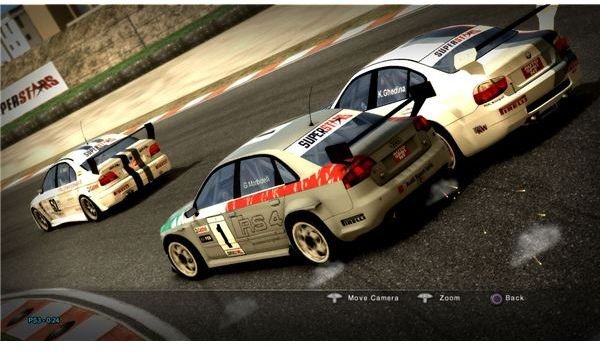 The graphical presentation of Superstars V8 Racing isn't as ground breaking as you'll see in other racing games in this genre. The cars look pretty good but background and landscaping of off-track terrain is well below average for a racing game. Nevertheless, you can't expect this game to compete with the likes of Gran Turismo 5, and unfortunately it doesn't. For those of you out there who are willing to accept a $19.95 game that looks like $49.95 game then you probably won't be too disappointed with the visual quality of Superstars of V8 Racing.
The Final Word on Superstars V8 Racing (4 out of 5)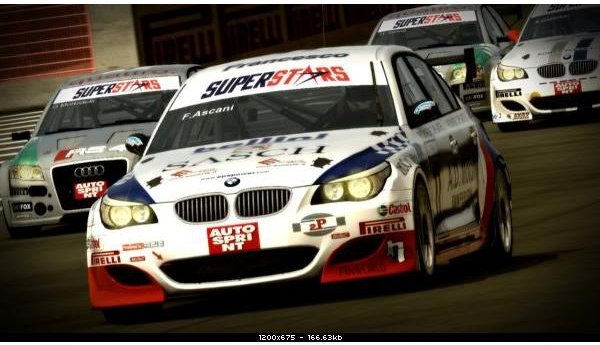 Superstars V8 Racing will certainly entertain the hardcore racing fanatic, particularly fans of the real world racing series, but the driving is probably too challenging for most casual gamers to enjoy. Superstars V8 Racing also doesn't include all the detail and depth you're going to find in other racing games, but what they do include is entertaining enough to keep someone that likes physics based racing for entertained for a few hours. Good enough to keep you busy until you can get your hands on a copy of Forza Motorsports 3 or Need For Speed Shift.