Heroes of Three Kingdoms Beta Information and Preview: Fantasy MMORPG from the makers of Perfect World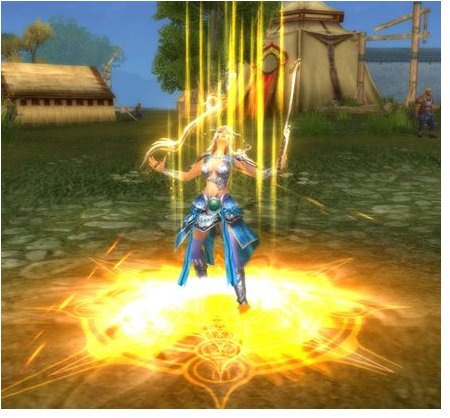 Heroes of Three Kingdoms Beta - Back Story
China is in the midst of a civil war and three leaders want to take over and rule all of China under one banner. As a soldier, you will play a pivotal role in reuniting China, but which side will you choose? The Three Kingdoms are:
WEI: Wei possesses the largest population, a strong cavalry and is the most prosperous of the three kingdoms. Wu is ruled by the brilliant and ruthless, General Cao Cao.
WU: Wu has control over the sea and an unmatched naval army. Wu has a strong economy and is led by warlord Sun Quan who is said to recognize upcoming talent amidst his ranks.
SHU: Shu has the weakest economy but the strongest defensive lands, sitting between the mountains. Led by royal idealist Liu Bei, Shu has five Tiger Generals (military experts) on her side.
Heroes of Three Kingdoms Game Play
From the developers of Perfect World comes a new MMORPG, Heroes of Three Kingdoms. During character creation, players not only select one of over 60 regions for which their character originates, but must choose one of 18 ancient weapons to specialize their character's combat style. Choices include:
Cleaver

Charmer

Glaive

Gauntlets

Halberd

Hatchets

Hooksword

Mace

Ring Blade

Saber

Scepter

Spear

Staff

Talons

War Fan
As players level up they must train in skills that correspond with their selected weapon. Every ten levels, players must complete a quest to improve weapon proficiency, which allows players to increase their rank and learn further specialization. Heroes of Three Kingdoms offers over 50 campaigns which include races, assassinations, rescue missions and full scale battles. Campaigns range in size from 1 to more than 50 players. The game will offer a variety of mounts that will be available to players at level 20 after they learn equestrianism. Crafting appears to be quite advanced with 8 professions to choose from. These are:
Alchemy – The skill of making elixirs.
Artificer – Deciphering ancient relics to make talismans, pendants and sigils.
Cooking – Brewing refreshing drinks and cooking hearty meals.
Crafting – Extracting ore to make ingots to forge into weapons.
Enchanting – Manipulating basic elements to make mystical gems.
Healing – The use of herbs and oils to make bandages.
Tailoring – Tailoring clothing and protective armor from thread and leather.
Taming – Domesticating wild beasts to use as war mounts.
Heroes of Three Kingdoms Beta Information
Heroes of Three Kingdoms closed beta testing was supposed to begin in April bit it has been postponed. Developers have now set the closed beta for Tuesday July 13th, 2010. Closed beta keys are still available from Perfect World Entertainment. Get one before they run out!
Heroes of Three Kingdoms will be free to play but the virtual currency ZEN can be purchased using real money to buy in-game items such as mounts, pets, accessories and cosmetic enhancements. If you prefer Sci-fi MMORPGs, check out Knights of Dream City for which the developers are currently offering an extra access code so a friend can play for free when you sign up.
Source: Heroes of Three Kingdoms