How to Play and Unlock the Secrets of Strange Cases - The Tarot Card Mystery Game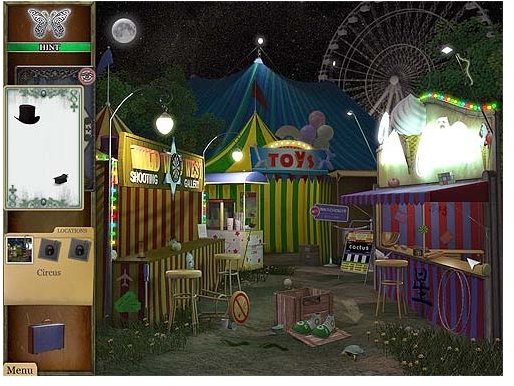 About Strange Cases - The Tarot Card Mystery
In this hidden object game, you play an FBI agent Claire Ellery who has been assigned to investigate the kidnapping of three girls in a small town. The town people seem strangely uncooperative as no one will give her any information on what has happened. Adding to the mystery, someone has begun to leave Claire tarot cards with clues on them. She will need to follow this trail to solve this case and unlock the truth about the kidnapping incident.
Game Basics
Claire's investigation takes place through various scenes that have clues, multiple hidden object rooms and other puzzles to solve. In each scene, scan the area carefully by moving the mouse slowly over all sections.
To unlock hidden object areas you need to find tarot cards. There are three types in this game. Look out for the following:
Green tarot cards will display images you need to find in a silhouette form.
Blue tarot cards will show a list of items in text form.
Red tarot cards show a picture of a single item. However, its pieces will be scattered throughout the room and will need to be collected.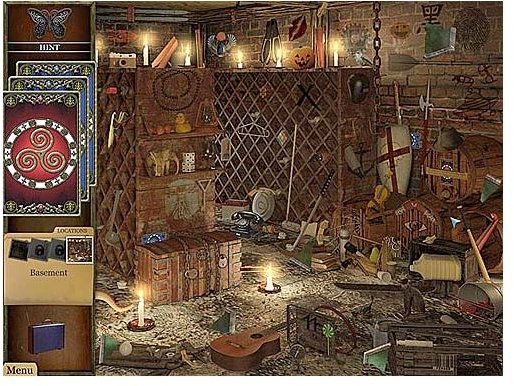 Once tarot cards have been revealed, you can begin looking for items. There is no timer during your investigation so you can explore without worrying about having to restart a specific level. Click on items you suspect are on your list. Be careful. If you click on incorrect items too many times, your cursor will spin and become disabled temporarily.
To help you out, a butterfly hint button icon can be pressed to give you a general idea where a specific item is located. This button refreshes after several seconds.
Within each room, other tasks may need to be completed. When you see the tool icon, which is identified by two spinning silver gears it indicates that you will need a special tool or key to access other areas or items in the room. You will have access to these items after all items in a tarot card have been located. Note: If you try to grab a key or tool in the room without locating the tarot card you cannot pick it up.
Each special item you collect is placed into your inventory until you use it. Click on the suitcase icon at the bottom of the screen to see everything you have.
Mini-Puzzle Games
In Strange Cases – The Tarot Card Mystery other puzzles appear in the game that are optional to complete. Identify these types by looking for a "Skip Puzzle" button on the screen. If the puzzle is too difficult or confusing, press this button when it becomes highlighted. There is no penalty for this action and you will be taken back to the last scene you were playing.
Winning the Game
There are nine chapters to solve the Tarot Card Mystery. Once you have completed them all you win the game.
Image Credit
Strange Cases – the Tarot Card Mystery screenshots were created by Sheila Robinson.