Deep Blue Sea 2 Strategy Hints and Tips - Game Play Basics, Upgrades, Rotation Amulet Rooms, Characters and other Helpful Info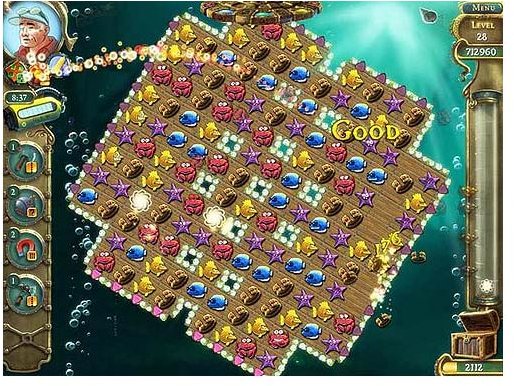 How to Play Deep Blue Sea 2
The majority of game play is centered on match three board levels. You play one of a selection of diver characters who is searching to find treasure and artifacts. The goal is to get a specific number of sparkly artifacts to drop to the bottom of the board screen. Accomplish this by matching three or more like items in a horizontal or vertical direction. Successful matches earn you treasure which can be used to purchase upgrades later.
The match three levels are limited by the amount of air you have in your diver tank. Special items and abilities can be used to help eliminate items, break barriers or increase your performance. At the end of each level you can see your overall score and ranking.
In between levels are occasional hidden object bonus rooms. Locate a list of items to earn treasure or special items that can help you with game performance. Completion of these levels is not timed, and a hint button (that refreshes constantly) can be used to give you a general idea of where a specific item is located.
Upgrade Shop
With the treasure you earn in Deep Blue Sea 2, you can purchase items to improve game play, increase your air and the amount of treasure you can hold in each match three level. Items purchased can then be equipped to your character's diver belt for use in future levels.
Characters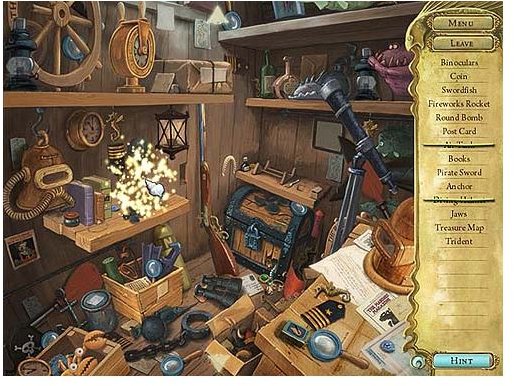 After a few levels of game play have been completed, your character gains a level and earns an ability that can be used in match three levels. As the game is played other characters will become available that can be selected to play. Each has their own special ability and can increase in level and experience.
Strategy Hints and Tips
The Hammer upgrade can break a single tile, chain or frost.
Your character earns a small amount of experience when their special ability or equipment is used.
The treasure you collect can be maxed out unless you upgrade your diver belt to hold a larger amount of items.
Break tile chains by using your character's special ability or by including them in a match line. However, keep in mind that chained tiles cannot be moved directly.
The game will give you hints in match three rounds by highlighting possible options on the board.
An "X" upgrade can swap two adjacent tiles regardless if they match.
The "Dodge" character has a special ability to break an entire row of tiles, chains or frost.
"Rotation Amulet" match three boards can be turned in a clockwise or counterclockwise direction. This ability refreshes every time it is used. It can be helpful for levels that have multiple obstacles or odd shapes. Use it by clicking on the artifact handle at the top left and right corner of your screen.
Frosted tiles can be broken with a "heater" item or by a direct match.
Explosives can clear a 3x3 area of tiles or break frost and chains.
A Tile Breaker can break a single tile.
In hidden object rooms, point your mouse up and down to scroll and view different areas
If you earn the minimum number of artifacts required to complete a match three level, you can leave and still continue on to the next level. You can see the number of artifacts needed by looking at the gauge on the right side of your screen.
The "Robert" character can temporarily boost the time it takes for the rotation amulet to refresh for use.
Image Credit
Deep Blue Sea 2 screenshots were taken by Sheila Robinson.