The Game Icy Tower: Review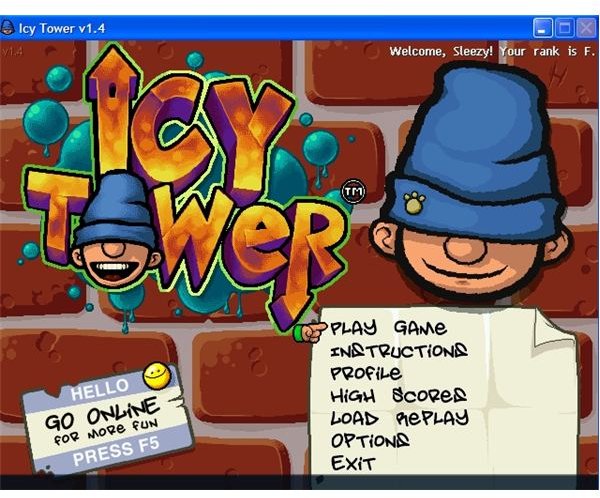 Meet Harold the Homeboy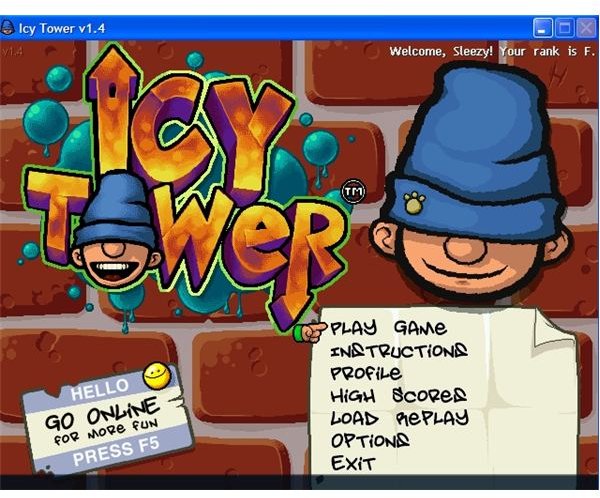 Icy Tower is a freeware arcade style game from Free Lunch Design. Originally released in 2001 it has become one of the most popular free pc games online. Over 20 million people have downloaded the game. There are multiple versions online, mobile phone apps, and even a Facebook game edition. In the game Icy Tower players become Harold the Homeboy. While bored one day he stumbles across an abandoned tower. He decides to enter the enormous building. To his amazement it's freezing with icy platforms and walls that never end. Players must help Harold the Homeboy climb up the tower performing high flying jumps and cool combo moves to earn the highest score.
High Flying Gameplay (5 out of 5)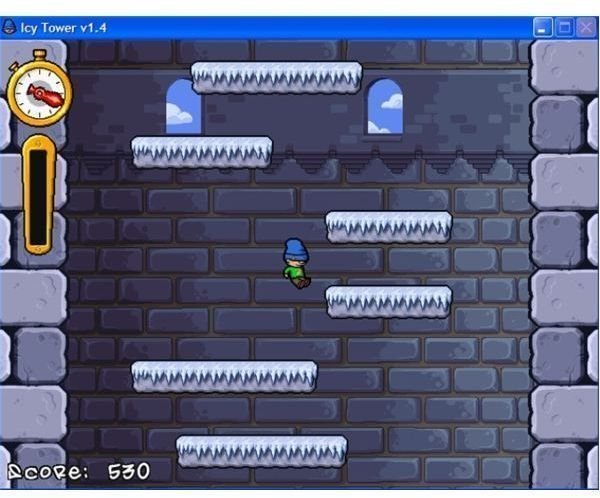 Although the gameplay is quite simplistic, it is equally entertaining. Players guide their character in a race against the clock to the top of the tower. The controls are minimal with only the spacebar and arrow keys required for movement. Running, sliding, and jumping techniques are performed to reach multiple platforms. The more speed in the run the higher the jump. Players also can use the walls to bounce and flip off. Double and triple jumps activate the combo mode earning bonus points. A meter below the timer situated on the side of the screen monitors floor jumps and combination moves. Cool acrobat maneuvers increase overall score.
As players advance so does the screen and its speed. Falling past the visible viewpoint will result in an untimely death. Not moving fast enough can set off the timer as well. A warning message scrolls across to notify users. If players do not pick up their speed than it's game over for Harold the Homeboy. This game is challenging. It has incredible replay value. Players will find themselves downright obsessed with beating their latest score and conquering the Icy Tower.
Graphics & Sound - Retro Style (4 out of 5)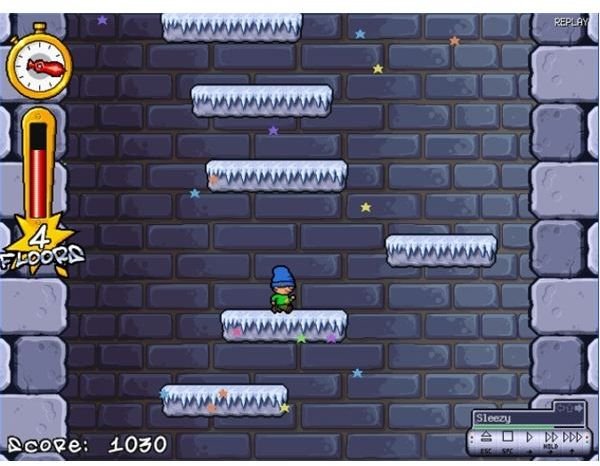 The graphics are nicely done in an arcade style. There is a variety of different textured and colored platforms as the game progresses. Players glide and slide on icy stone, wood, and metallic metals in vibrant colors. Stars fall from Harold when he performs spectacular leaps in the air. Announcements and warnings appear in an 80's graffiti script that meshes well with the retro theme. The sound effects are quite comical making it more upbeat. Voice actors in the game Icy Tower did an amazing job imitating a hip munchkin into break dancing and a 70's disco guy ready to get down. Funny screams, flying comments, and several high-pitched whoopees are sure to bring a few chuckles. The background music is a mix of techno pop and beat box that perfectly sets the mood.
Final Rating: The Game Icy Tower Scores (5 out of 5)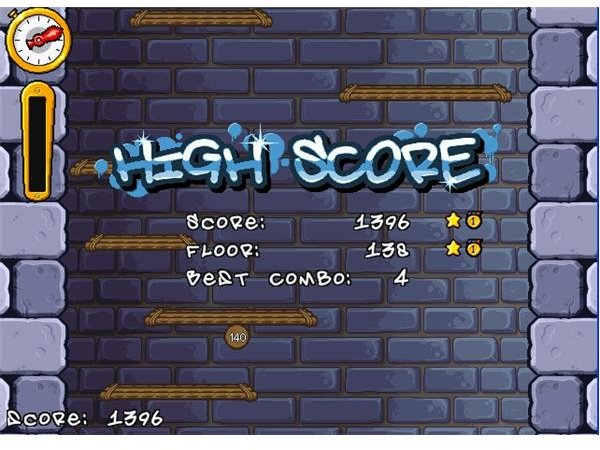 Icy Tower is one of the most addictive free pc games online. The fun challenging gameplay, simple controls, and humorous customization makes it a must play on every gamers' list. Players execute dare devil dives, back flips, and catapults against walls for the highest possible score. The unremitting floors create a fast paced environment that requires even a skilled player a day or two to master. Users can play as Harold the Homeboy, an invisible version of him, or as the Disco Fever Guy. There is also an option to watch, save, and send replay videos to your friends. Icy Tower is literally loads of fun and worth trying out. Players who like a challenge will love this game.