Mantis XF-5700 Experimental Fighter: Retro PC Game Review - Mantis XF-5700 Experimental Fighter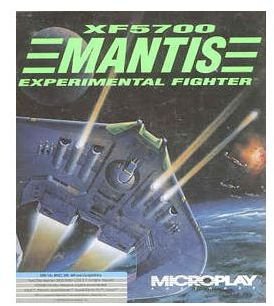 Hey, that alien looks just like a roach!
Back in the early 90's, when PC gaming often meant having to create a DOS 'boot disk' just to make a specific game work, I used to play a fun little space combat simulator called Mantis XF-5700 Experimental Fighter. It came on no less than nine 3.5 inch diskettes and took a good half hour to install, but it featured in-game cinematic movies that were revolutionary at the time.
The first time I saw this game was at a friend's house. He showed me the introduction video where it describes a bunch of roach-like aliens taking over the planet, and in one part it shows a reporter collapse onto a desk and a giant roach jumped out of her back. At the time, it was simply the coolest thing I'd ever seen in a PC game. Keep in mind this was when a lot of people were still playing the original NES or just getting into the Sega Genesis.
In a nutshell, the story involved you playing a space fighter pilot who must take on various alien ships and blow them up. There wasn't a whole lot to the plot other that 'aliens must die and you get to kill them'. There were supposedly 90 total missions in the game, though I got up to about the 30th one before I decided to move on. Each mission was basically the same as the one before it, but with a few minor changes in opponents and difficulty.
The gameplay was a pretty blatant rip-off of the much more successful Wing Commander series of games. The space missions were done using a cockpit overlay to cover about half the screen, then the rest of it was a giant moving star field. You had a reliable radar system to show you were the enemy targets were, then it was just a matter of chasing them down and blowing them up. At times, it could be difficult when facing multiple enemies, but the gameplay was mostly just repetitive.
I always thought the graphics were awesome for the day, especially with the full screen video and such. There was a CD-ROM version of the game that featured more multimedia stuff, and I actually had both copies. Games have come such a long way in the past couple of decades in regard to audio visual quality, but it is still fun to look back on these 'classics' and see how it all got started.
Mantis XF-5700 Experimental Fighter was one of a handful of games published by Microplay, which was a label under Microprose Software. The company was really big in late 80's and most of the 90's, especially because they published the first Civilization, but they ultimately went out of business in 2001 when they were bought out and merged into oblivion. The company named just recently came back in 2007 under the name of Microprose Systems, but now they produce electronics instead of computer games.
Box Cover