Wiiware Sexy Poker Review: Strip Poker with Anime Girls
Sexy Poker
There really aren't many adult titles on the Wii. A few violent shooters have snuck on there amongst the avalanche of casual shovelware but for the most part Nintendo have maintained their kid friendly image. Many of the games may be downright awful but as long as they involve waggling the Wii remote around and they're suitable for the whole family they're good to go. WiiWare has introduced a bit more variety and creativity onto the console and while the quality control may not be any better at least the games are cheap. One bizarre title which can hardly fail to leap out at you is Sexy Poker.
Gameplay (1 out of 5)
This is a simple series of one on one card games against a series of teasing anime girls. You can take them on at Texas Hold 'em poker or Blackjack and if you manage to win a round then a layer of their clothes will disappear. There is a brief manual to explain the rules but this is no card game tutor and the hands that are dealt seem to have a distinct lack of randomness. If you beat a girl you'll get her down to her undies and then the game moves onto the next young giggler. Girls you have beaten can be accessed in a gallery where you can undress them to your heart's content.
The game is controlled using the Wii remote's pointer controls which is just unnecessarily annoying. If you've played poker or blackjack then you'll find this dull in the extreme but then the attraction is not really supposed to be the cards.
Graphics and Sound (1 out of 5)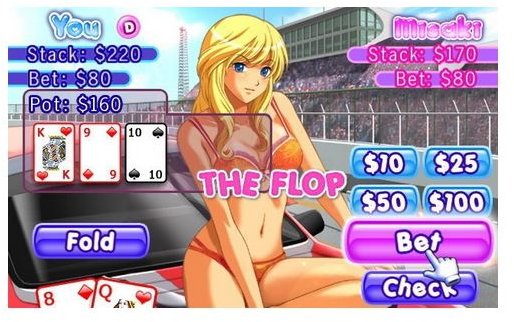 The girls on show here are typical curvy, big eyed anime girls. They are all 18 or 21 and there are nurses and police women all posing in comically sexy ways. The still shots remain exactly the same, they blink and their mouths move but otherwise there is no animation. When you win a hand a layer of their clothing simply vanishes accompanied by a Disney style harp sound effect which seems very out of place. The girls never get entirely naked. There are also voiceovers and the suggestive dialogue is cringing. The nurse sounded worryingly like Mickey Mouse to me and it was tough to shake the idea that the voices were all bad female impersonations.
Overall (1 out of 5)
The game is most definitely not sexy and it barely ticks the poker box. It is certainly not a party game and is intended as a single player experience. It costs 500 Wii points but I'm sure you could find something pretty similar to this as a free browser based game. There are enough drunk, bored men and curious adolescents out there for this to make a decent profit but Nintendo should really exercise a bit of quality control. There is no replay value here at all and if it wasn't for innuendo this could have escaped an M-rating altogether, although it did manage to get banned in Australia. In short Sexy Poker is not worth your time or money.
References
All references, cover art and screenshots from Sexy Poker Wiiware for the Nintendo Wii.