Hintlerlands: Review of Hinterlands, A Fantasy Role-Playing Game with Strategy Elements by Tilted Mill Entertainment.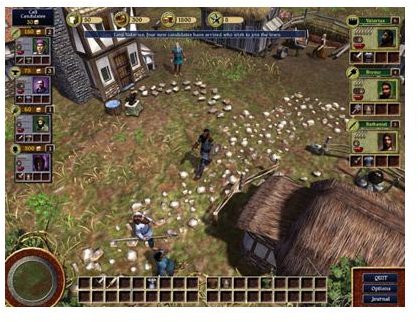 Introduction
Hinterland is a unique hybrid between city management and role-playing. Actually, it's the first successful hybrid I've seen of these two genres. Unfortunately there is no interesting story to start with. When the game starts, you just need to set the basic parameters of the map and then it gets randomized based on your settings. You can change numerous options and toggle different features, so you get an element of replayability to make up for the lack of story.
Afterward you will have to pick your character. Will it either be an elf archer, goblin thief or human assassin? – it's up to you. Like in any game they have their pros and cons and you're sure to find a few you'll like among the 20 choices the game offers.
Gameplay (5 out of 5)
Looting, leveling, building – the three main components of the gameplay. The king has given you the task of making this savage and uncivilized land a prospering city. How? By gaining some reputation, followers and by leading battles against the local enemies. This is actually the main advantage of this game – balancing RPG with economic and city-building elements.
There are two main perspectives - city development and role playing. City builidng deals with economy and strategy, while the RPG point of view offers more action. This side is some well executed hack'n'slash action RPG, and is the part of the gameplay that keeps the game's pace up. The ultimate goal is to keep your village safe, requireing a balance between slashing enemies and driving the prosperity of your city.
The game itself exhibits excellent balance of these elements, with the city building providing depth to an action RPG, and the latter livening up the former.
City Building and Development
You start with a small village which has nothing but a main building. Soon, you will have visitors that would stay if you offer them a place to live. Some of them will require specific items or buildings before they join your population. The citizens are all different by profession: the tax collectors will provide a steady income of gold while the shepherds will produce food for your citizens for example. You are not obligated to accept everyone that wants to get into your city and upon you can remove citizens. However, the ability to upgrade citizens makes this choice more difficult. Even the simple shepherd, after he gets his dragon rancho upgrade, will give you a little dragon as a gift.
If you haven't turned off the option for quests from the King, then sooner or later he will give you a specific task or ask you for a favor. For example, he wants to have access to the iron in the region and he gives you a deadline. If you complete the goal in time, you will gain a lot of reputation. If you don't, you will lose even more.
Keep in mind that the main sources of reputation are the exploration and fights carried out by your character. If he dies, he will be resurrected at the city gates – but your reputation will drop. The villagers heard of your unsuccessful mission.
Role-playing
Sooner or later you will have to explore the wilderness around your city. The gold you will get is important for its development. On your
way you will meet orcs, undead, goblins and other classical fantasy beasts. Of course, to get the bonus from a specific territory, you will have to kill any monsters that have occupied it. Afterward, you can loot their bodies, getting gold and different items such as armors and elixirs. Sometimes you will find items that improve your city – a whistle for the shepherd for example, which increases the food produced by better sheep control.
You will hardly clear the map alone, so you can order some of the villagers to stop working and come with you instead. You can make a group of three people. They will gain experience and levels as you go, but this is handled automatically instead of by you, the way your main hero levels. The main attributes are similar to many other RPGs – attack, defense and health. Your hero can also improve by learning some abilities which either improve your combat skills, support the city, increase the loot etc.
These are small details you may not notice, because your main goal is to pump that left mouse button.
Conclusion (5 out of 5)
For such a small game Hinterland offers so many features and such interesting gameplay that you shouldn't overlook it. It's the perfect game to help you kill some time on your poor laptop or outdated desktop. If I had the chance I would categorize this game as one of the best RTS strategy games. It's a shame Hinterland doen't have the graphics it takes to compete with better looking, if less interesting, titles.
There is also an expansion coming - Hinterland: Orc Lords.
System Requirements:
CPU: 1.8GHz
Memory: 512 Mb
Video: 64 Mb 3D Video
OS: Windows XP or Vista