PC Game Preview: MMORPG set in Outer Space - Jumpgate: Evolution Beta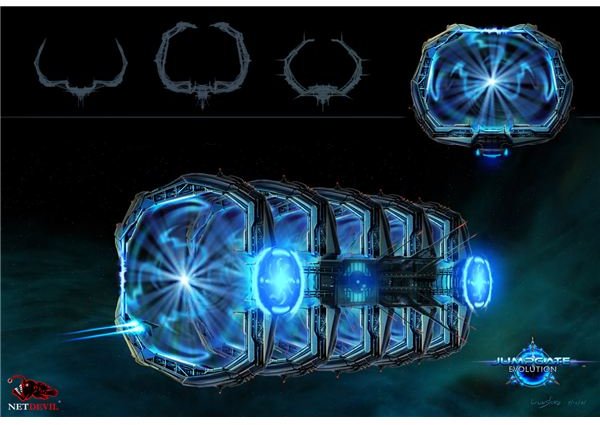 An epic space adventure…
As I have delved deeper into my MMO knowledge and found new gaming companies that are producing new and awesome games that are coming out all the time, I have begun a great relationship with the folks at NetDevil. These are the awesome game producers who did Jumpgate a few years back, and they are now working on Jumpgate: Evolution - the next step in the MMO battle for space and starship battles. If you have not heard about this sweet upcoming MMO game yet, you need to check it out. And, if you have and you just haven't signed up for the beta yet - you need to do it.
NetDevil has changed up their website for Jumpgate: Evolution and has created some beautiful new forums for fans to check out. Even though the game's beta is not yet open, they have revamped the whole site and process so that it is now so much easier for players to head over and register. Don't let this new update for their site confuse you though, they just wanted to let everyone know that they are working fast and furious on getting this epic space battle MMO up and ready for testing in the very near future. But, one nasty side effect of them revamping their site is that they need everyone to re-sign up for the beta test phase. Although this might be a pain in the rear, make sure that you head over and re-sign so that you can get in on the beta when it opens. They have streamlined the beta testing sign up so that they can help to find the best qualified appilcants who will provide the best information when it comes to beta testing a brand new game.
To get signed up for the beta test phase, head over and register on the forums for Jumpgate: Evolution. It is really easy to do, and takes literally less than five minutes to do. You will have to register for a CodeM account if you don't already have one, but if you do, the process will be even faster for you to sign up. When you have an account ready to go, you can activate it and then you can simply follow the few remaining steps to sign up for the beta for Jumpgate: Evolution.
Once you're signed up, then head over to the Jumpgate: Evolution forums and sign in there also. Here, you'll be able to check out some of the sweet screenshots and the wonderful artwork that has gone into the game. You will also get to see the ships and some of the other great things that you will get to play with in game and test out, so you can already be dreaming about which type of ship you want to pilot. If you haven't signed up for the site yet, it take only a second to do and you will find that it's easy to get in and start jumping in on the conversations and the fun.
For those of you out there who already have beta slots, make sure that you sign up again so that you'll get your key when the beta opens. And, if you played the classic Jumpgate version, you can rest assured that you'll get special preference for the new version and the beta, so make sure that you use that to your advantage as well. So, head over and check out the site, the screen shots, and the information so you can see that this space adventure will be one that you won't want to miss!
I have added in some of the sweet concept art work from NetDevil that will show you some of the awesome ships that you will get to fly and test out to whet your appetite!
Jumpgate: Evolution Art Work