Wii Gamers Line Riders 2: Unbound Review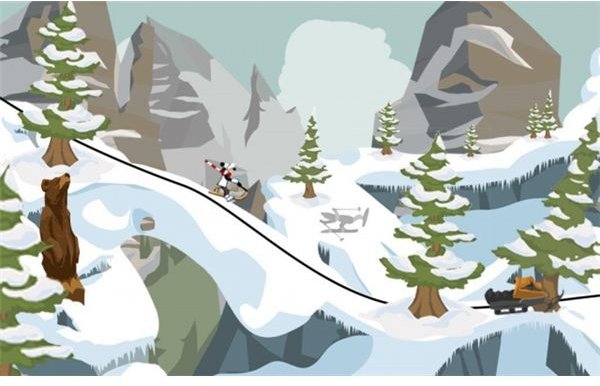 Screenshots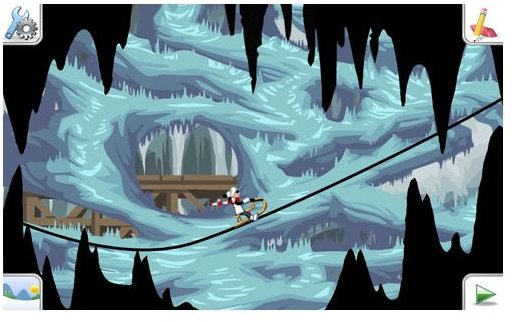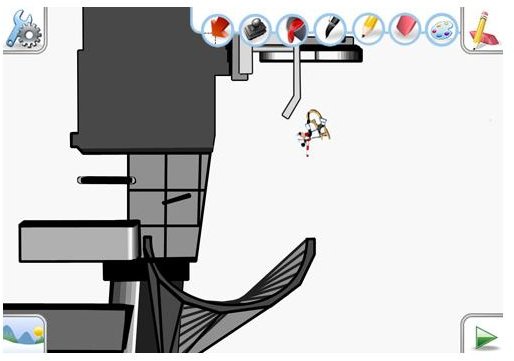 The Good Parts (3 out of 5)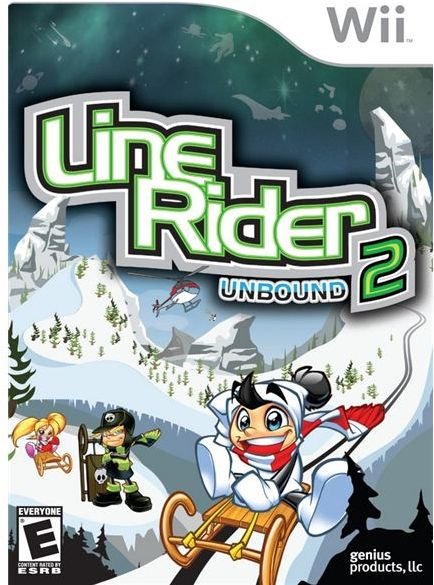 Line Riders 2: Unbound has realistic physics and that makes it easy to learn the mechanics and master the game play because they're consistent and the motions are natural. Finding the right line and keeping on the right path is much easier when you don't have to worry about learning how to do something again each time you attempt it.
The challenge and satisfaction of finally figuring out how to get by a difficult area or level of Line Riders 2: Unbound is extremely gratifying, fun and rewarding. Many of the levels I would rate as extremely difficult, which really gives you a nice feeling once you figure them out.
Line Rider 2: Unbound has a unique, engaging and extremely useful set of creation tools that allow you to create some amazingly charming, difficult and entertaining custom courses. Add to this the ability to share your new creations on line and Line Riders 2: Unbound has great replay ability.
The Bad Parts (3 out of 5)
_Line Riders 2: Un_bound requires a gamer to have considerable patience in order to play it successfully, considerable trial and error will be needed in order to figure out the game play and particulars of progressing through Line Riders 2: Unbound.
Line Riders 2: Unbound has an extremely steep learning curve that might send some gamers away mad, but stick with it and Line Riders 2: Unbound provides a significant amount of satisfaction and entertainment to the harder gamer.
Two line riders at once is not a fun experience, it's very frustrating and will make you want to throw the remote at the screen.
The Graphical Story (3 out of 5)
Line Rider began as a deceptively simple free Flash game with a charming and unique graphical presentation that quickly gathered a small but fanatical following. Line Riders 2: Unbound has carried over the simple design concepts of the original Line Rider and a charming and engaging graphical look that certainly can't compete with the graphical presentation of games on the Xbox 360 or Playstation 3, but does the job for the cartoon-look and simple concept of Line Riders 2: Unbound.
The animated characters in Line Riders 2: Unbound move smoothly through their motions, including expressing pain when they crash into a wall or flip head-over-heels through a loop, smiling when they are successful, the facial expressions can be quite funny and entertaining at times.
Sounds in the Game (3 out of 5)
The sound track of Line Riders 2: Unbound is as light-hearted and silly as the cartoon characters would suggest, but adds energy and pace as you're playing the game and entertains during the slower moments with softer tunes.
The sound effects included with Line Riders 2: Unbound are light-hearted and fun, adding laughs to the action with pops, quips, and blips, quick and engaging sounds that keep you from getting too serious about the game.
The Story Line (3 out of 5)
_Line Riders 2: Un_bound has you guiding an adventurous little boy on a sled through a series of progressively challenging courses that are entertaining, engaging and satisfying to beat. You have no direct control over this little daredevil though; you basically fill in missing parts of the track to get him to the finish line.
Playability (4 out of 5)
Line Riders 2: Unbound is a difficult game and it takes time to learn how to progress through the maddeningly hard and challenging tracks. They don't provide much direction with the game, so you'll need to spend time trying different options to find the right combination. A mixture of racing and puzzle solving in a 2D environment that's simple in concept and design, Line Riders 2: Unbound provides a significant level of engagement of the mind and senses to the task at hand.
Line Riders 2: Unbound achieves an open-world feel with the puzzles and some of the solutions to the puzzles are certainly unique and require significant thought to figure out.
Line Riders 2: Unbound has a useful, fun, and extremely satisfying creation tool that allows you to create your own custom routes. This is one of the best parts of the game once you get beyond the basics since it allows you to create tracks to frustrate and entertain other gamers.
The Bottom Line (3 out of 5)
Line Riders 2: Unbound is recommended for its significant challenge and deceptively simple game play that takes awhile to learn before you can start to progress through the game. Many may prefer the more robust sensual adventure of games like Killzone 2 and Uncharted: Drakes Fortune, but for gamers who sometimes prefer a simpler experience that provides a different kind of entertainment Line Riders 2: Unbound for the Wii experience hits the spot.