Underrated MMOs: Dark Orbit – What is it, Why is it popular?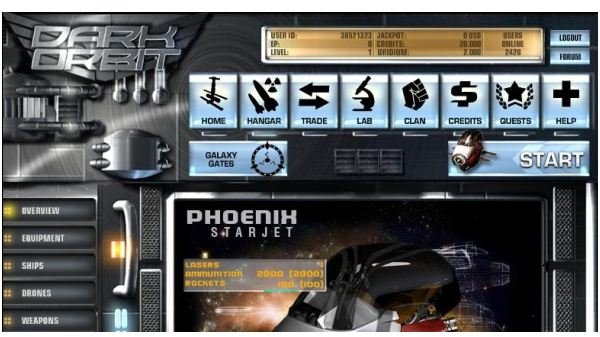 What is Dark Orbit?
Dark Orbit is a free 2D space themed web browser-based MMO which takes players into the deep abyss of space. This unusual type of science fiction infused MMORPG operates directly from your browser with a fun PvP combat system. Over 15 million users log into Dark Orbit daily to wage galactical war. Players hone their combat skills through various quests and battle each other depending on their alliance. Publisher Bigpoint Games tosses in a monthly competition that gives users the opportunity to win a $10,000 jackpot! Explore this incredible galaxay and join a massive community for a true space adventure.
Select Your Destiny
Dark Orbit allows players to select their own destiny. In a universe manipulated by energy dominance three mining companies reign supreme. Each diverse corporation will change your character's ultimate fate. They hold different morals and approaches to accomplish their objectives. The Mars Mining Operation is all about the money. They will do anything to make it ahead. When you join this corporation you must decide how far you're willing venture into the dark side. Earth Industries Corporation is one of original remaining operations which closely abides by their commitment to the cause. Venus Resources Unlimited focuses on protecting the galaxy as well as their brave employees. Choose your company wisely there is a hefty price for anyone who decides to jump ship. Each mining operation is at war for the galaxy's energy producing raw material.
Dark Orbit Screenshots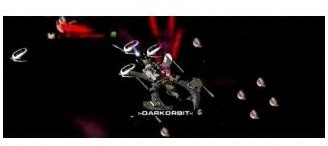 What can you do in Dark Orbit?
In Dark Orbit you're employed by a mining corporation. Players can take on missions, complete various quests, battle in wars, play games, join clans or chat. Missions usually involve collecting different raw materials or destroying a rival corporation fleet. Armed with a map and an arsenal of weapons at their disposal players must defend themselves against attack. You or your opponent can attack and steal a spacecrafts cargo. Players can participate in group fights as well. If you don't feel like working there are games like Spaceball or Team-Death Match for players to indulge in. In Spaceball two teams battle by shooting asteroids into goals similar to a hocky match. Team-Death Match places 20 space pilots in a toe-to-toe battle. In your dashboard area there is a chat button which allows you to contact any player. It's also an option to form or join a clan. Members of clans can send chat messages to each other while exploring the galaxy hunting for raw materials. There is even a Dark Orbit forum where you can post questions to other members.
Hit the Jackpot
What makes Dark Orbit stand out from the rest is it's monthly $10,000 Jackpot. This contest is optional for those who wish to participate. Each month registered users will sign-on during the announced battle date. The battle usually lasts from about 2pm in the afternoon to around 10pm at night. It's no cake walk. The objective of the game is to shoot and destroy while keeping yourself alive. The last player hoovering wins the Jackpot. If there is more than one player left after the time has ended one of them will be randomly selected for the prize. Dark Orbit's Jackpot contest makes an already entertaining game a full day event.
Optional Subscription Model
To play Dark Orbit is completely free but like most MMOs you must use a form of currency to purchase specific upgrades such as enhanced spacecrafts, ship equipment, rockets, laser ammo, and shields. This can be done through credits or Uridium. Players earn allotted amounts of credits through certain quests and battle performances but they can also be bought via SMS or credit card. The prices for uridium starts at 7,500 for $3.99, 30,000 for $12.99, 75,000 for $29.99, 150,000 for $59.99, and 330,000 for $99.99 USD. Bonus Packages or Premium membership can also be purchased which allows faster log outs, special deals on Uridium, and custom spaceship repair.
Why is it popular?
Dark Orbit happens to be one of Bigpoint's most popular web based MMOs listed among their well-known games like Space Invasion, Seafight, Xblaster, and Gladius 2. There is no complicated download or patch installment required to play Dark Orbit. Players can instantly dive into a massive online community with open PvP and intense faction wars. It's perfect for any gamer who wants a quick paced sci-fi MMORPG without the hassle. Completing quests, exploring a vast galaxy, making new friends, and blasting away at other spacecrafts gives players plenty of action-packed fun. The monthly $10,000 jackpot prize for the sole surviving player in a battle free for all alone is worth playing Dark Orbit and draws millions of users regularly. This game is extremely addictive with an interesting space platform.