PS2 Game Review: Thunderstrike: Operation Phoenix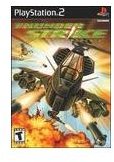 Story Line (4 out of 5)
This is your basic "fight the terrorist" flight sim. A major group of terrorists have managed to strike right at the heart of the world's main nations that have crippled everyone. So, these main super powers have combined their weaponry and sent you on a deadly mission against the terrorists, code named Operation Phoenix. It is your job to control the most advanced weapon in the world, a massive helicopter that will give you the power to exterminate all of the terrorists at any cost. While this is a pretty basic story line, with all of the events in today's world, it is one that is believable.
In the game, you will find four different campaigns that you will have to complete to finish the game. Each campaign has several different missions that you will also have to complete so that you can move on to the next mission. The different campaigns that you have to finish are: the Eastern Europe campaign, the Alaskan campaign, the African campaign, and the Middle East campaign. While each of these have their own difficulties that you will have to overcome, each also offers a great way to play the game in different modes in the heli. So, for the story line of the game itself, I give it a 4 out of 5.
Graphics (4 out of 5)
Let's start with the graphics for this PS2 flight sim. I have to say that while they are not "blow-you-away" super great, they are pretty darn good. As you can see from the screenshots below, you'll see that there are several different modes - from normal views to night vision - and several different areas that you will be flying over, like high level winter terrain, desert terrain, and oceans. You'll find all of the controls and mini maps to be very specific to your heli and where you are, as well as the normal controls and interface on your screen. Everything is really detailed and once you actually learn the controls and learn how to control your heli well, you can blow through the targets and get to the harder levels of the game itself. So, in terms of the graphics, I give them a 4 out of 5.
Images From Thunderstrike: Operation Phoenix




Sounds and Music (2 out of 5)
While the sounds of the game are reminicent of other heli flight sim games, you may get a bit bored with them. Basic sounds of the heli are all through the game, from the blades spinning to the ammo shooting to the normal alarm sounds of the cockpit. I got bored with them pretty quickly and they got annoying to me. There really isn't much in the way of music to keep you happy here either, so my suggestion is to plug in your stereo with a great, fast-paced CD and crank it before you start playing. Overall, for the sounds and music of the game, I give it a 2 out of 5.
Controls (3 out of 5)
Now, the controls for this PS2 flight sim are a bit tricky to learn. But, I'm not saying they are impossible. It realistically only took me about 5 minutes to get them under control, and maybe a few times of losing the first level to get my shooting patterns down right and the nose of the heli pointed where I wanted to go or shoot each time. I have played flight sims where I never got the controls down pat, which frustrated the heck out of me. So, don't worry about the controls too much on Thunderstrike: Operation Phoenix. They aren't that bad.
When it comes to the controls on the screen, your interface, you might want to take the time to get to know them during your first few missions. These can take a bit of getting used to since they are a bit different than other flight sim games. But, they aren't impossible to learn either. So, you don't have to worry about never being able to learn them, like what can happen to you in Star Trek: Encounters. So for the controls in this PS2 flight sim, I give them an overall rating of 3 out of 5. They could have been better - but they aren't horrible.
Overall Impression (4 out of 5)
For a gamer who doesn't care much for flight sim games, I actually like this one. I've played through almost all of the campaigns, and I'm finally on the Middle East campaign. I found this title in the bargain bin at our local video store for less than $10, so I have to admit, that we have more than gotten our game time out of this one. For anyone that is looking for a great, cheap flight sim for their PS2, Thunderstrike: Operation Phoenix is one I would recommend. Of course, there are several other great shooter games reviewed here on Bright Hub that you should also check out.