STIX 400 PC Gaming System Review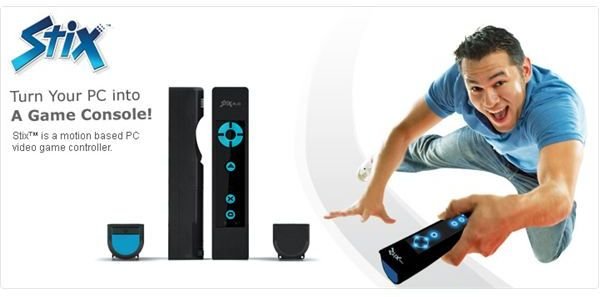 STIX 400 (5 out of 5)
When I first heard about these PC gaming systems, I thought, how sweet is that?! A Wii for your PC! But, before I got one, I checked into them a bit. Well, the STIX 400 has only been out for a little while here in the US, but the older version, the STIX 200, has been out for a couple of years. Now, when I read up on the 200, it didn't get very good reviews at all. So, I was a little wary - especially since I couldn't find much at all on the 400. But, with the cheap price of them (from about $20 on ebay), I figured at the most, I would just give it to my kids.
So, we got one and brought it home. When we opened the box, I was amazed to find that there was only the controller and the base - that's it. It plugs into your USB port on your computer, and you download the software on your PC to allow it to recognize the touchscreen on the controller and you are all set to play. Easy as pie to set up, which is really nice these days. The total set up took less than 5 minutes and we were online, playing some fun PC games with a Wii-type controller.
So, purchase price and set up are a breeze - so they get a 5 out of 5 from me.
Age and Ratings (5 out of 5)
Now, it plainly says on the STIX site that the games and systems are for younger gamers - like around age 8. But, I'm older than that - let's just say over 25, and I loved playing these games. There aren't any that have adult themes or too bloody or violent, so I would not have a problem letting my kids go with one of these systems. So, for the age and ratings on the system, I give it a 5 out of 5.
Graphics and Games (4 out of 5)
We head over to the STIX 400 website, at www.golive2.com, and register on the site. Once we have that done, we can get into the game portal and play. There are several different categories of games that you can choose from here: action, puzzle, arcade, sports, and more. On each page, you'll have from 20 to 100 games to choose from which give you a LOT of choices. There are tetris type games, shooter games, racing games (including an MMO racing game!), Yoga, flinging cattle, pinball, and so much more. We tried out several of these games and I actually had a ton of fun with all of them - even the games that I don't normally play.
Now, one thing I noticed right off the bat is that the controller can be a little slow to react when you're first getting into the game and getting used to. But, once you are used to the speed of the controller, you get better at the game.
The graphics on the games are not bad. Some are better than others, but most are 3-D games that are really similar to games you would see on Yahoo! Games, Big Fish Games, and Shockwave Games. While they may not be super awesome/blow you away graphics, they are really good for a system that is this cheap and works this well. So, for the graphics and the array of games to choose from to play, I give this system a 4 out of 5.
Sounds and Music (4 out of 5)
Now, I have a surround sound system on my PC because, well, I love the gaming sounds and music from my favorite games. So, I was wondering how the sounds and the music would be on the different games on the STIX 400 games. While there are some games that really need a complete overhaul on their sounds and music, most are really enjoyable. The racing games have great sounds for the cars, the gears, and more - the shooting games have great shot action sounds, and even the arcade and puzzle games have fun boings and bounces to make them fun. So, overall, I'm happy with the sounds and music as you play on the games offered on the site. I give the audio part of the STIX 400 a 4 out of 5.
Fun Factor (5 out of 5)
Overall, this is a fun system to have. I mean, I play tons of games that cost me out the rear to buy and then take forever to install. These are great fun games that you play just like a Wii. The controls are almost identical, and everything is easy to learn and play. I am so glad that we bought this system and I recommend it to anyone that I see.
While there are some areas where there could be more games, most have a great variety of games to choose from. And, the games that are there will usually offer you fun versions of your favorite consoles and PC games - which means that everyone will find something they like.
Overall, I give the STIX 400 PC gaming system a solid 5 out of 5 and I would recommend to anyone that they pick one up.