The Positives (4 out of 5)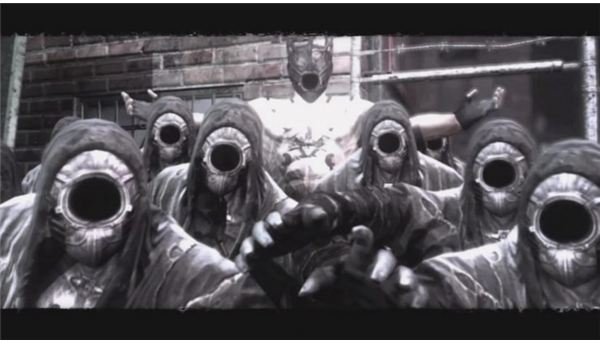 Stunning violence in hand to hand battles is so graphic you may wince as you hear the meaty sound of your blows land and see your victim cringe in pain and fear, just before this insane killer screams in rage and attacks you again.
There are so many options for mayhem just lying around all over the place, the fun never stops, and you only have to look around for a little protection. The first person perspective is never ending melee fun and mayhem, with two scoops of horror, and a sprinkling of investigative technique on top.
The improved Crime Scene Investigation aspects of this game make for an improved level of entertainment and require you to often think, not just kill, which is a refreshing change.
The Negatives (3 out of 5)
Every aspect of this title was done so well that it's necessary to be a little picky to find something to complain about. But the gun play aspect of this title could have been fleshed out a little more, just to match the outstanding design of the hand to hand combat. When you compare the two side by side the gun play in this game pales by comparison to the fun and totally entertaining hand to hand combat system. You don't really feel like you're shooting with a gun. You really want to pick this one up for the melee fighting experience.
Storyline (3 out of 5)
Once again you're playing Ethan Thomas, former member of the CSU in this title, and current alcoholic fighting personal demons and ghosts of the past. You eventually get dragged back into the CSU to help them try to find a solution to the crime wave sweeping over the city, despite your obvious alcoholic impairment.
The story takes Ethan through a series of crime scene investigations (chapters) in which he dispatches numerous insane killers on his personal journey back to reality and uncovers the clues telling of an obscure conspiracy surrounding the whole affair.
Graphics (3 out of 5)
The stunningly violent scenes in this title are so immersive the background sounds will make your heart race and blood pump faster as you see the startling detail of fear, anger and utter hate in the expressions of your victims.
Sound Design (3 out of 5)
The sound effects and sombre sounding soundtrack are one of the best developed and designed parts of this game, truly helping to immerse you in another realm of dark and intensely violent individuals. You will be sitting on the edge of your seat when you hear glass break, a door move, or a subtle little sound that grabs your heart and squeezes it tight.
Playability (3 out of 5)
Once you finish the campaign, which took me about eleven hours, there isn't much to do, in fact nothing of note, so this game doesn't have any real playability, but the way it was told, you can bet on a sequel.
Condemned: Bloodshot Verdict (3 out of 5)
This is one of the most immersive and disturbing games you can play, not an adventure for the children and even for adults the violence maybe a little graphic in spots. You do need to think a little more with this title, the need to pay attention and analysis the scene of a murder will come in handy here, although you won't require any FBI training.
This game casts a creepy spell over you when your playing, drawing you into a world of utter violence that gives no quarter and asks for none. The lead character is a troubled and complex character that the game portrays as extremely human as he goes through his personal journey of acceptance and vindication.