Samuel L. Jackson And You Take On The Baddies In Afro Samurai The Video Game For Xbox 360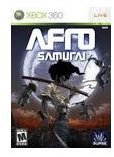 The Afro Samurai Video Game Story Line (2 out of 5)
For those that aren't familiar with the series of Afro Samurai, then the game will confuse you – I'll tell you that right now. Here is why, there is no real introduction to the main characters, although you will recognize the voice of Samuel L. Jackson as the main charcter. You are basically just dumped into the game, given a "hi, how ya doin" type of spill, and then – boom. Game time. This feeling only gets worse throughout this xbox 360 game, especially if you have never seen the Afro Samurai series. You will be completely lost in the story if you try to figure it out. So, for this part of the game, yeah, well, it only gets a 2 out of 5 from me, as I feel that they should have given a better intro to your characters to help you get in the game better.
Of course, if you are familiar with Afro Samurai the series or the movie, then you'll be right at home in the Xbox 360 version. So, for those that know the story line, it gets a 4 out of 5!
Gameplay In Afro Samurai (4 out of 5)
Love some good action games for your Xbox 360? Well, this is one area of Afro Samurai that will not let you down. In fact, it can almost get overwhelming at times if you aren't paying attention. The action in Afro Samurai is downright excellent, and you do have to concentrate and try instead of just button mashing. What makes it even better is that the combos you can learn in Afro Samurai for the Xbox 360 and the excellent graphics combine to create a unique game play that will really blow you out of the water. Plus, the voice acting in Afro Samurai is excellent as well - especially since they have Samuel L. Jackson as the main character. The game play in Afro Samurai far exceeds expectations and gets a 4 out of 5. The only thing that doesn't gain it a 5 out of 5 is the camera angles. They can get confusing at times and even make you sick to your stomach if you have a big screen. So, just watch out for that area of the game play.
Music & Voices In Afro Samurai (5 out of 5)
Well, here is where Afro Samurai the game picks itself back up again. The music is timed with the game itself so that as your moves are slamming, you will start to feel like you are actually fighting to the music, which makes it a bit more fun. And, the music itself – pretty darn good to listen to. You shouldn't get too bored with it.
As for voices, you actually get the real deal here – Samuel L. Jackson and Ron Perlman do the characters, just like the series. So, you will actually feel like these could be real people – even if the graphics say otherwise. So, for the great music, great voice acting, and original story tone, I give this part of the game a solid 5 out of 5.
Graphics (4 out of 5)
Well, this part all depends on the type of cartoons you prefer. For example, those that love those rounded, heavy lined toons of our youth – probably won't like Afro Samurai. But, for those that love anime or anything even closely related to it, well, this is right up your alley my friend. The graphics themselves are really good though, I have to admit. They are more of an anime style cartoon than a real game-type anime, which is good in my opinion. And, even though it is an anime style, the lines of the characters, weapons, and surroundings are really slick and clear, and you don't catch yourself squinting at anything to see where it is. To me, this is a good thing. So, I'm going to give the graphics for the game itself a 4 out of 5. I only wish that the colors weren't so bland…
Screenshots





Overall (4 out of 5)
Overall, Afro Samurai gets a 4 out of 5 from me. I actually like it – a lot. And, I'm not a big fan of anime. Once I checked out the series, I understood a lot more and I enjoyed the game more. So, if you're considering picking this one up, you might check the series out first if you aren't familiar with it. Trust me, it will make the game so much better for you.