Mortal Kombat Vs DC Universe for PS3: List of Fatalities, Moves, and Cheats to Unlock Characters and Trophies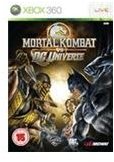 Introduction
Speed and the right moves is crucial in Mortal Kombat Vs. DC Universe for PS3 console. This action-packed game collides two very popular worlds to bring gamers a new experience. This article will explain the secret codes to unlock characters, perform earth shattering fatalities, and the best finishing moves for a flawless victory.
Unlockable Characters & Items
The two unlockable characters in this game is Shao Khan and Darkseid. You must successfully complete Mortal Kombat Story mode and press R1 at the character selection screen to play as Shao Khan. Darkseid can be unlocked in the same manner once you've completed the entire DC Universe Story mode as well.
Countless trophies ranging from bronze to platinum can be unlocked by completing the specific tasks or challenges in combat.
Bronze Trophies:
Bring It On! - Complete Jax's Kombo Challenge
Combo Champion - Perform a 10 hit combo in arcade mode
Evil Genius - Complete Lex Luthor's Kombo Challenge
Fatality! - Perform a Fatality!
Humiliation! - Get a flawless victory online
Less Talk, More Fight! - Win a Chat Room Match
Silver Trophies:
DC Arcade Champion - Complete Arcade Mode with all DC Universe Characters
MK Arcade Champion - Complete Arcade Mode with all Mortal Kombat Characters
Gold Trophies:
Arcade Master - Beat Arcade Mode on max difficulty without continuing
The Finisher - Perform all Fatalities
Special Move Master - Perform all Super Moves and Pro-Moves
Platinum Trophy:
Platinum Trophy – Rewarded when you unlocked all trophies!
Fatalities & Finishing Moves List
Fatalities is an essential element in Mortal Kombat Vs DC Universe gameplay. Below is a list of character fatality moves that you can perform during intense combat.
Scorpion
Fatality 1: Down /Down /Down/ O
Fatality 2: Forward/ Forward /Back/Down / X
Sub-Zero
Fatality 1: Back / Back / Down / Back / O
Fatality 2: Back / Forward / Down / Forward / Triangle
Want more? Read the next page…
Contined Moves List
Sonya
Fatality 1: Down / Down / Back / Forward / Square
Fatality 2: Down / Back / Forward / Forward / O
Shang Tsung
Fatality 1: Back / Down / Forward / X
Fatality 2: Down / Down / Toward / Forward / Triangle
Kitana
Fatality 1: Back / Back / Forward / Square
Fatality 2: Forward / Down / Down / Back / X
Superman
Heroic Brutality 1: Down / Down / Forward / Forward / Square
Heroic Brutality 2: Forward / Forward / Down / Back / O
The Joker
Fatality 1: Forward / Back / Forward / Square
Fatality 2: Back / Down / Back / Forward / Triangle
Batman
Heroic Brutality 1: Down / Back / Forward / Forward / O
Heroic Brutality 2: Down / Down / Down / Up / X
Catwoman
Fatality 1: Down / Back / Down / Forward / Triangle
Fatality 2: Forward / Back / Toward / Back / O
Flash
Heroic Brutality 1: Back / Back / Forward / Forward / O
Heroic Brutality 2: Down / Forward / Down / Back / Down / Forward / X
Kano
Fatality 1: Back / Down / Back / Forward / Square
Fatality 2: Down / Down / Forward / Back / O
Liu Kang
Fatality 1: Forward / Back / Down / Down / X
Fatality 2: Down / Down / Forward / Down / O
Raiden
Fatality 1: Down / Forward / Down / Up / Triangle
Fatality 2: Back / Forward / Forward / Down / O
Jax
Fatality 1: Back / Forward / Forward / Back / Triangle
Fatality 2: Forward / Forward / Back / Back / X
Baraka
Fatality 1: Back / Forward / Down / Forward / Square
Fatality 2: Forward / Forward / Down / Down / X
Green Lantern
Heroic Brutality 1: Forward / Back / Down / Back / X
Heroic Brutality 2: Back / Forward / Down / Down / O
Deathstroke
Fatality 1: Forward / Forward / Down / Forward / Triangle
Fatality 2: Forward / Down / Back / Forward / X
Lex Luthor
Fatality 1: Down / Forward / Down / Back / Triangle
Fatality 2: Up / Up / Up / Square
Captain Marvel
Heroic Brutality 1: Down / Forward / Back / Forward / Square
Heroic Brutality 2: Down / Back / Down / Forward / Triangle
Wonder Woman
Heroic Brutality 1: Up / Back / Down / Forward / Square
Heroic Brutality 2: Forward / Back / Back / Forward / X