Grand Theft Auto: Episodes from Liberty City Review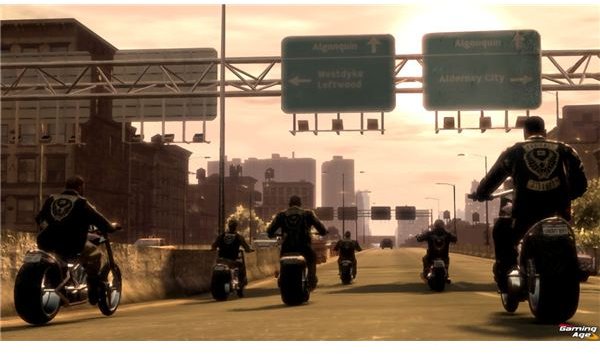 Introduction - Grand Theft Auto: Episodes from Liberty City Review
Since the initial release of Grand Theft Auto IV across PC, PS3 and XBOX 360, numerous players have experienced the story of Niko and Roman going gangbusters trying to deal with their people problems as crooks started to become an increasingly-prevalent pain in the backside throughout the story. Along the way, two downloadable episodes arrived to further expand on the story from separate points of view; however, these downloadables arrived for 360 players only, leaving other platforms in the dust.
Not any more: Episodes from Liberty City is now multi-platform, and whether the episodes are obtained individually or through the recent standalone combo package (also having gone multiplatform as well) playing on whatever platform you choose is now a very real possibility. As such, this review shows you what to expect when playing on your PC.
However, as this review is aimed at two very different storylines, it is not sufficient to analyze the complete package all at once: therefore, the overall package will only be analyzed when possible; everything else will be judged on the virtues of each individual game in the overall package.
Storyline: The Lost and Damned (4 out of 5)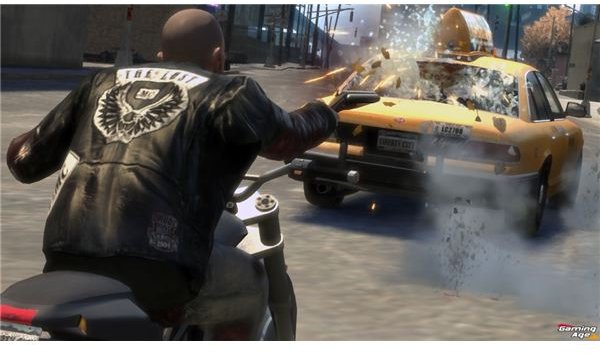 The storyline in The Lost and Damned is perhaps the better of the two. Playing as Johnny "The Jew" Klebitz, you serve the role as the "veep" of a biker gang known as "The Lost" and proceed to wreck havok through the streets of Liberty City on two wheels. It doesn't take but a few minutes into the story before the first twist is thrown at you, as Johnny is serving the role of acting president of the gang while Billy (the real leader of the gang) serves time in rehab for infractions related to intoxication practices. Needless to say, this ultimately escalates into a number of heavy-loaded situations ranging from gang rivalry (initiated through the simple act of retrieving Billy's old bike from rivals) to the classic power struggle scenario.
On top of that, the story cleanly integrates with that of Niko and company, which mas surprise players who crammed their way through GTA IV proper. It is subtle touches like this, including personality traits (such as Johnny being a real jerk the whole time) that make the story really stand out. The tale is not without issues, though; as you'll ultimately find out while playing, this isn't one of the strongest GTA storylines ever, so The Lost and Damned gets a small mark off in this department. Yet there is still plenty to do, including 25 gang wars, about a dozen bike races, and some bike jackings to pull off among other side quests. Needless to say, hitting the 100% mark is going to take a while to hit, even with the 8-10 hour storyline completion looking straight at you.
Storyline: The Ballad of Gay Tony (5 out of 5)
The Ballad of Gay Tony, on the other hand, is way over the top from various perspectives. For one thing, your playable character Luis Lopez isn't just setting out to live the high life: in fact, he already is! That's largely due to the titular Tony Prince putting you in his care a s a representative of his various nightclubs, both straight and gay (hence the title, not to mention Tony's own lifestyle). Of course, it's not all hearts and roses: various means of opposition get in your way, from a nasty Russian mobster and a rather moronic son of an Arab Sheik who literally has you nab everything imaginable – even something as incongruous as hijacking a f***ing subway train is fair game twhere this jacka** is concerned. Yes, even among the affluent of the reaces of society, you're bound to find someone who's out for revenge.
Presentation and Gameplay: The Lost and Damned (3 out of 5)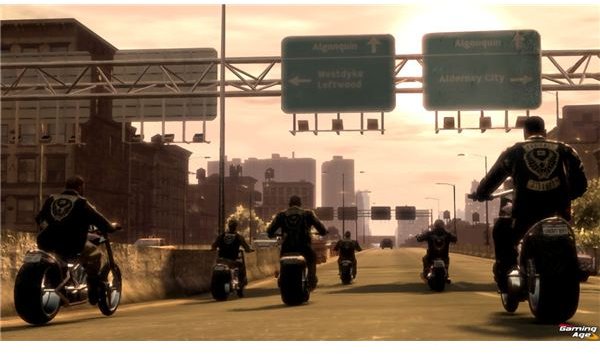 Before going into the general details of the gameplay in The Lost and Damned, it bears mentioning that when it comes to riding the cavalcade of motorbikes, the handling absolutely rocks! I mean that in a good way, in case you are wondering; that's because the bike handling in this episode is far removed from the clunky job in the main GTA IV story, and that's a plus in a side game where biker gangs are the central part of the story from the get-go. With that out of the way, let's just say that the whole of the experience is also rock-solid as well.
For one thing, since you're part of a group (read: biker gang) you obviously need to keep track of how your groupies are faring. Thankfully, right from the end of the tutorial mission you'll see on the upper part of the screen where the vitals of your crew is straight front and center and herein lies a bit of challenge: should you lose even one part of your team, new recruits will take over on the next outing (sans practical experience) so it is important to keep your partners alive for as long as possible in order to minmimize turnover within The Lost. A few passing activities (read: minigames) are also available; however, the biggest offense against this outing is full-frontal male nudity vs. other implememtations. Thankfully, no "hot coffee" scandals are yet to be recorded for this one – however, it is still a mark against this instance for the fact of this matter, and a wonder how Rockstar still managed to nab little more than a Mature rating after the last incident.
Presentation and Gameplay: The Ballad of Gay Tony (5 out of 5)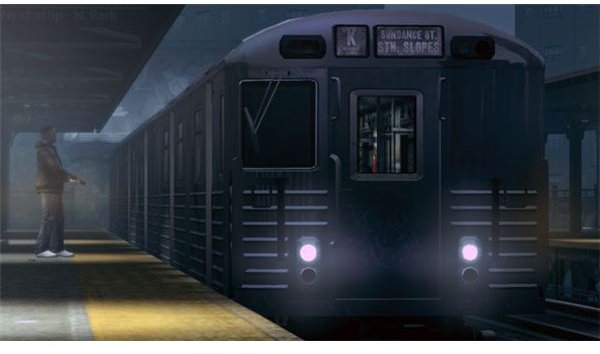 Of course, as Luis is further up the social ladder than either Niko or Johny, it goes without saying that he gets the better toys. From an APC tank built for policing city streets to a powerful assault SMG – plus some rather effective sticky grenades reminiscent of the Halo series' traditional plasma-grenade attack – to some classic strong-arm out the window attacks upon some of the biggest unsuspecting targets in the city (even so far as to eliminate a f***ing sports team owner in this maner).
On top of all that, you get several new means of escape and execution, such as the base jumping entry/exit approach. Yes, base jumping – complete with the requisite chutes to slow your descent including the traditional reserve chute in case the primary one bites the dust. Helicopters get a fair amount of use as well, giving you even more stuff to play with as you complete your missions. Perhaps the best part, however, is the performance rating screen that pops up after each completed mission to show you how well you did.
Graphics and Implementations (4 out of 5)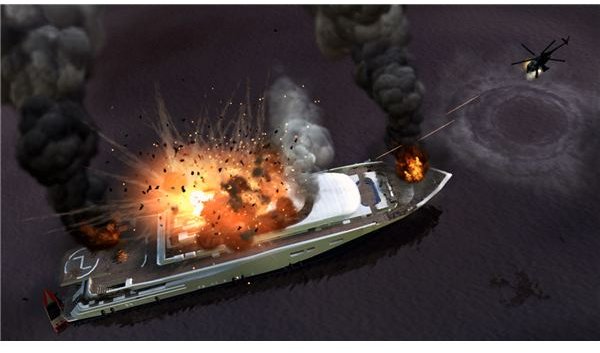 Of course, since this is a relatively new game the presentation insofar as the visuals is dependent on your sytem components are handled by your setup; the use of a Core i7 processor, 4 to 6 GB of RAM and an Nvidia GeForce GTX 260 should give you some rather outstanding visuals – and further still with an SLI configuration or equivalent – but it really depends on the power of your system in determining the strength of your visual experience.
On the other hand, the initial PC release of the main GTA IV content didn't fare too well in the performance department, and while the stability has improved over the course of several updates and bug fixes you'll still have to put up with a few oddities (or at least scale down your experience if absolutely necessary for a smooth experience). One nice touch, however, is the two-pack DVD/Download standalone option, which gives you a reason to play just these two side games as this particular approach does NOT force you to have an installed copy of GTA IV in order to experience both parallel storylines.
Final Verdict (4 out of 5)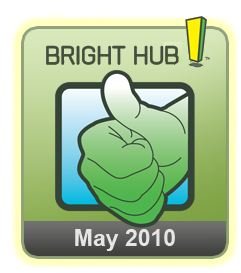 Again, whether obtained individually (via GTA IV) or as a combo (sans original game ownership requirements) Episodes from Liberty City provides some of the biggest action in the entire Grand Theft Auto series. While parts of the stories do have their issues, these two extra scenarios provide a decent compliment to – and a satisfying conclusion of – the main events of GTA IV.
While I didn't touch on the subject anywhere else herein, I would like to add that within the experience of these side games are some extra-special jokes and gags – along with tons of exceptional voice acting and exceptional – if not perfect – deliveries in the presentation and depth of this incarnation of Liberty City that just begs to be explored anew from opposing viewpoints. Simply put, this is a must-play experience that no Grand Theft Auto fan should miss.