Reel Fishing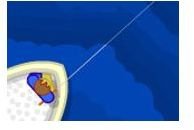 You will be out in the middle of the ocean in this simple fishing game where you will have to look out for fishes of all sizes that will float past your boat in a hurry. Use the left and right arrows to control your boat and use your determination to reel some big whoppers in ! Don't be fooled by the rocks that may look a lot like fish. To play this game click on the following link.
Image Credit: 123Bee
Mad Shark
Trust me you have never seen a shark this upset. You will be swimming through a maze of swimmers and all types of sea inhabitants to make it to the other side in one piece. After all you are the king of the sea, so you have to act like it. You will play the role of a shark that has apparently gone mad. Thus he has attracted all types of enemies such as swimmers that are trying to cut him into bite size slices and fish who will knick at him every chance they get. Your job is to use the mouse to swim as fast as you can to avoid being their prey and tap the space bar to eat any thing that stands in your way. To play this game click on the following link.
Weekend Fishing

It's the end of the week and it's time to get the gals and guys together and go out to the lake for some serious "reeling in". Join your buddies on the deck as they guide you on how to get the most fish in the shortest amount of time, in this short series of free pc fishing games. Sound too easy? Not really there will be some challenges involved. You will have to click and drag the mouse over the lake and when you see the fish swim by you will reel as fast as you can with the mouse wheel. The further out you have to catch the fish, the heavier they will become. Pay attention to what your buddies tell you in the side talk bubble, they will let you know if you caught something worth reeling in. To play this game click on the following link.
Image Credit:IloveCats
Hook Line and Sinker Fishing
This fishing game is for all you players who enjoy matching games. You will have to catch three fish in a row to progress on to the next level. Can you handle that? The fish will speed by very quickly, but you will have to be just as fast as you glide from left to right with the mouse as your navigational tool. Be careful not to reel in a old dirty boot, that can cost you some points. But once you get the swing of things you will ace all 10 levels. Happy fishing ! To play this game click on the following link.