Free Online Dog Games Worth Playing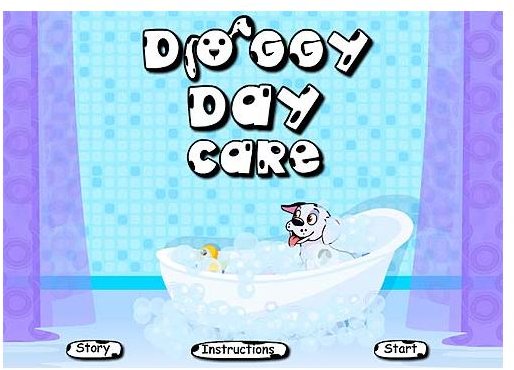 FREE ONLINE DOG GAMES
Doggy Daycare
Doggy Day Care is a simple online game where you babysit dogs and find items like toys and food to keep them happy and content. The things they need are displayed on a list on screen. Click on the appropriate items to give them to the dog. Different rooms can be explored by using the arrow keys on the PC keyboard. Each level timed and scoring is based on how quickly you can find all of the items. Find this free game through the Girls Go Games.com website.
Dr. Bulldog's Pet Hospital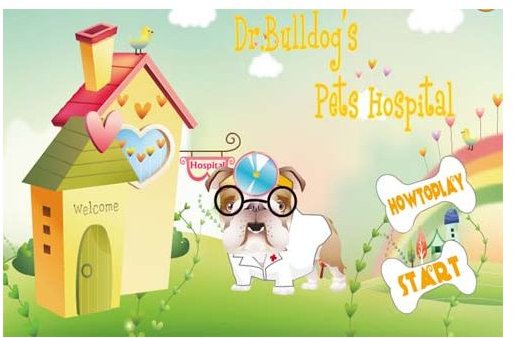 In this game, animals are diagnosed and taken care of by Dr. Bulldog. As animal patients arrive, you click and place them on Dr. Bulldog's diagnosis counter to be evaluated. The treatment that the animal needs appears as a thought bubble next to their heads. Animal patients are then placed in the appropriate medical equipment location so medicine or other treatment can be given to them. Once treated the animals feel better and leave the pet hospital. In each level you will need to help a specific number of animals in order to move forward in the game. Points are scored for every animal that is successfully helped and treated.Every level in the game specifies the number of animals that will need to be treated in order to move forward in the game. Find this free online dog game through Y8.com or Gamers Enterprise.com websites.
Feed the Pet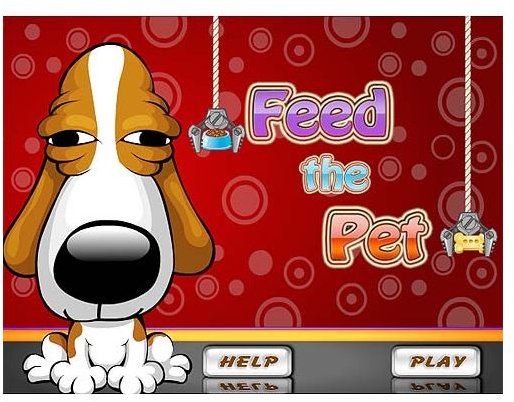 In this easy to play online dog game found at Girl Games 1.com, players can feed dogs by pointing and dragging food items for them to eat. Various types of food are brought in by small cranes. Distribute the correct food item by looking at the dog's though bubble next to their head. The goal in the game is to earn points by feeding the most dogs in a limited amount of time. Points are lost when the incorrect type of food is given to a dog.
Dr. Daisy Pet Vet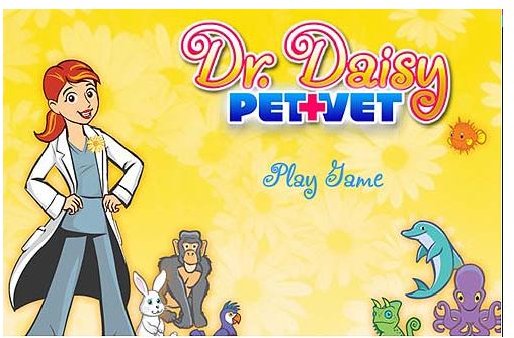 Dr. Daisy Pet Vet is a game about treating animals at a pet hospital. You play Daisy, a veterinarian who is learning the basics of treating dogs, cats and other types of animals. Pet patients arrive in a waiting room and sit there until you take them to the check in counter. To play, click on an animal and then click on the check in counter to move them. The receptionist then logs their information into a computer. Once completed, Daisy takes the animal to the medical evaluation table where she can figure out what treatment they need. Click on the animal to diagnose. Select medication for treatment by clicking on the cabinet behind the evaluation table. Points are earned by the number of animals you can treat within a limited amount of time. The game increases in difficulty as you need to watch out for impatient pets that may leave if they become too unhappy. Try out this one and other free dog games through the Girl Games 1.com website.
Doggie Dash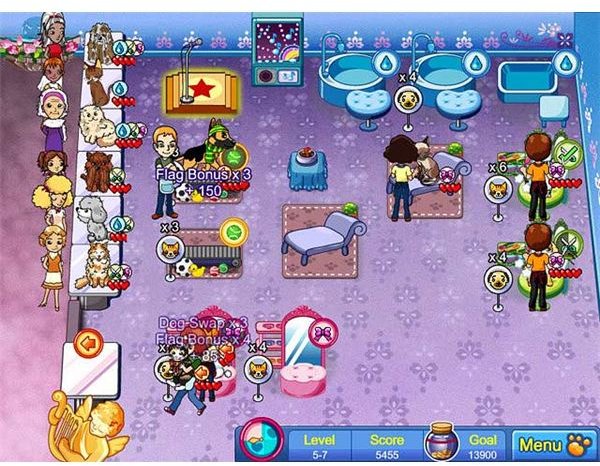 Do you like time management games? In Doggie Dash, you get a chance to run a pet salon.You play Walter or Scarlet who take animal customers to grooming, washing and other salon related stations for services they need. Dogs or cats come into the salon carried by their human companions. Scarlet or Walter can move animals for servicing by clicking and pointing to the appropriate salon station. When the dog or cat is all spruced up, they are carried back to the checkout counter where their human companion pays for their salon services. In each level, a specific amount of money must be earned before time runs out. Bonuses can be earned by completing the same task multiple times in a row (chaining). Levels become more difficult since different types of dogs and cats have varying levels of patience which may result in them leaving the salon and losing money. Doggie Dash can be tried out for an hour of free play through the Big Fish Games.com website. However, you want the full version you will need to purchase it for $6.99.
Image Credit
Screenshot images for this article on free online dog games were created by Sheila Robinson.