Free PC Paintball Games - Play Paintball on Your PC - Paintball Online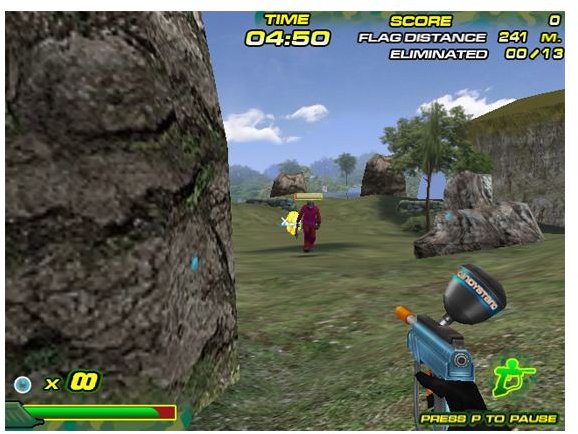 Play Online! - Free PC Paintball Games
Nowadays the internet offers loads of PC games to be played online and many of those online games can be played for free. Sounds very exciting? Well, it i! There also many PC games that are the same if not even better quality than the ones from the most popular game consoles like Playstation, X-cube, Nintendo Wii, etc. Together with the games like action, adventure, live simulation, role-playing, strategy etc. there are also many sports games available online. Very popular team sports game is the game of paintball. Paintball is quite popular not only played in the reality, but also as a PC game.
Play Paintball!
Many websites offer these days free PC paintball games and people who love playing this amusing game can enjoy playing it online. Websites like bigmoneyarcade.com, candystand.com, miniclip.com, flasharcadegamessite.com, mousebreaker.com, wolfpackpaintballteam.com, onlinegames.net, etc. These sites are offering games like "King of the Hill", "Speedball", "Assault Paintball", "Paintball Smash", "Paintball Scramble", "Mousebreaker Paintball", "Paintball Shooter Game", "Presidential Paintball", "Office Paintball" and many more.
Various Paintball Games
"Paintball Smash" is a game that is better than most of the other online games, not only paintball, by the way. It has great blend graphics and action. It is not jut a point-and-click game. Unlike many others, it's a game that is fun to play, because you have to attempt to capture the flag and terminate all of the enemies in a big outdoor place. It's definitely a game worth trying out. In the game "Assault Paintball", you are standing in one place and shooting the enemies as they come out while trying to get "armour" and "life bonuses" along the way. The surroundings are basic, but the graphics and sound effects are quite good. "Paintball Scramble" is a basic 3-D game, which lets you to shoot the opponents as you are trying to capture their flag. You can pick up "life bonuses" and extra "ammunition" as you progress through the game. "King of the Hill Paintball" is a simple game where you shoot the cast of King of the Hill as they turn up on the screen. For a simple game, it can be very addictive one.
Unorthodox Free PC Paintball Games
Free pc paintball games also have variations - such games as "Mousebreaker Paintball", which is played as you run around the field and shoot the opponents before they manage to shoot you. You can play one on one or against four and you will need to be quite patient in your attempt to master the game and its controls. "Paintball Shooter" is a game where you try to shoot the enemies as they come out from behind bunkers. The game is based on speedball and requires a quick mouse. "Presidential Paintball" is a game created to celebrate the US Presidential Election in 2008. You can play as Clinton, Romney, Obama, Edwards, Giuliani, or McCain and you have to battle against the other candidates as you are progressing towards the Oval Office.