5 of the best free online puzzle games
Fun and Easy Flash Games
We don't always have a lot of time to spend gaming in today's busy world. When looking for a fast and free online game to fill a few moments or even relieve some stress, puzzle games are great way to kill two birds with one stone. Here we are going to take a look at some well made Flash games that deliver a quick fix for those times when you just have to game but can't spend a lot of time playing one.
A great go-to gaming website for quick Flash games is Miniclip. This site has literally thousands of online games that require no site registration and no newsletter sign ups. Mostly showcasing Flash games, this site has good selection of free puzzle games that are high in quality and are safe to play without risking your hard drive. The following are the five best of the fast puzzle games that Miniclip has to offer.
Silvershpere
The Silversphere game is a classic puzzle game that features a silver sphere in need of being placed into a blue vortex. Each level has the player control things using arrow keys, and you have to roll the sphere through the level's maze in order to make it into the vortex.
The sphere has to stay on land through each level or a total of five hundred points will be lost and the level will have to be restarted. Gold spheres will randomly pop up during game play and are to be avoided. Running into a gold sphere will explode the silver sphere and the level will automatically be restarted. Other obstacles in gameplay include claws, ice cubes, and wooden boxes, all of which need to be dealt with to continue onto the next level.
A hint for using the claws - use the silver sphere to roll a wooden box on top of it. Once the wooden box is on the claw a blue vortex in that level will appear. Get to the vortex and you'll make it to the next level. If a level has a blue claw, then an ice cube must be used to open the vortex instead of a wooden box. Click through here to play: Silversphere
Blox Forever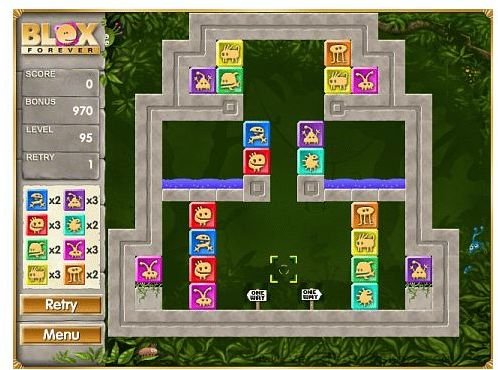 In the Blox Forever game, you have to place the same color of blox next to the existing blox. Once you've lined up the colored blox, they will explode and clear the board. The goal is to clear the whole puzzleboard to be able to move on to the next level.
This game plays along the same lines as Cubix, only in a free online version. Gameplay is also offered in Brian Teaser and Mind Bender levels for various puzzle solving play. To get started with this game, click through here: Blox Forever
Sveerz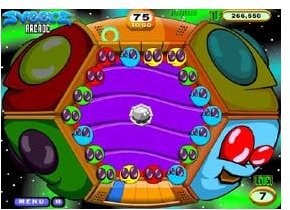 This game is a bit like the tabletop game of Simon Says but with a musical alien twist. Best played with headphones or a speaker, this game challenges you to follow the blinking colors and sounds of each sveer in succession. The alien Oversveerz will sing out a line of notes that correspond with different colored sveerz. If you correctly follow the order given to you, then the sveerz you choose will be free from the board.
Sveerz that are eliminated from the board leave room for more sveerz to fall. Random sveerz will continue to fall during game and if the board becomes filled with sveerz, the game will be over. To play this musical alien puzzle game, click through here: Sveerz
Magic Pen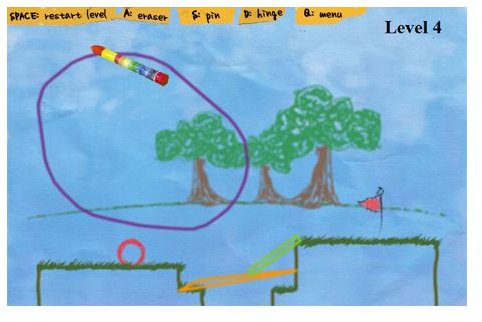 The Magic Pen game features crayon type graphics and is mouse controlled by drawing. The object of the game is to get the red circle to roll into the red flag and move on to the next level. You can move the red circle by drawing other shaped objects to propel, stop or switch the rolling action during the level.
In addition to base line drawing, you can draw around small brown x's that are shown on screen. The x's act as pins and hinges that can give movement to the shape forms that are drawn. This game is classic puzzle gameplay, in full color with a physics edge. Get started playing this game by clicking through here: Magic Pen
Sling!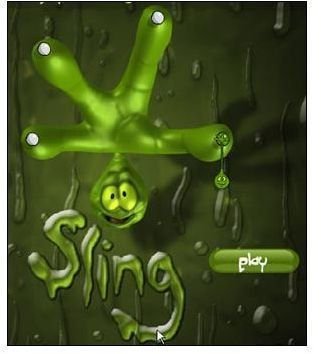 This fast paced game has the goal of slinging a little green blob of goo through various puzzles. Each level has different challenges to get your blob to sling into the vortex. Mouse controlled, the green blob can move by way of being slung onto pegs or gripping points as well as bouncing, stretching, and dropping as forms of clearing a level.
At the start of the game, players can select from easy to hard modes. Each level is also on a time limit that if completed before the limit is reached causes a gold time bonus to occur. Rack up enough bonuses and the little green guy will get extra lives. To play this game and start the slinging puzzle action, click through here: Sling!