The Best Online Horse Games: Horseland.com, Club Pony Pals, and My Horse Club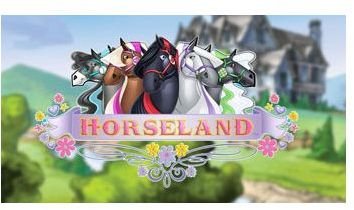 Best of the Free Online Horse Games
There are many online games that come with paid subscriptions on a monthly basis, but with the current troubled economic climate many people are dropping those extra costs. In order to help you keep on gaming without having to link up a credit card, we are going to take a look at some of the best free online games. The games covered here are all about horses and though the majority of horse themed games are geared towards girls, there are a few here that even the boys can enjoy.
Horseland.com
Horseland is an online free virtual world that provides users the ability to create their own game avatar and horse. The website was created as an extension of the Horseland cartoon show and has grown in popularity online since its creation. Separated into two game play categories - Horseland Jr. for younger kids and the main Horseland for tweens and teens - the goal of the game is to teach kids how to care for their own horse.
Educational points for learning horse breeds and know what tack is, make the game a fun learning experience while giving kids the opportunity to enter horse races against their friends. This game is also browser based and provided free through ads that appear during chat along with some in game links that give interested users the option to look at and purchase actual horse tack items. For more information on this game and to get started playing, visit their main web site at: www.horseland.com
Club Pony Pals
Club Pony Pals is all about taking care of one horse from a selection of seven breeds that includes Palamino, Paint and Appaloosa. You begin

by registering for the free online horse Sim game and choosing your horse to take care off. Once you have gone to your horses stall and have groomed them, the game will let you saddle your horse and then take the horse out of the barn and out onto various riding trails.
This free virtual world also has in-game emails, chat and forums for getting together with other players. This game is more geared towards the fun of having a horse instead of learning the real basics of caring for a horse but still goes through the motions of simple grooming while food is offered from a snack machine in the main area of the barn. For information of this free horse game and to register for play, visit their main web site at: www.clubponypals.com
My Horse Club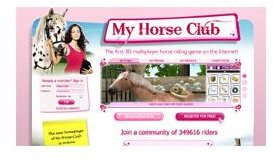 My Horse Club is a free 3D online MMO horse game. Created in combination with French company Mindscape to promote in part a series of horse trading cards, the game is free to play in English without the purchase of the trading cards. One reason that registration and play is free is due to the cards only being available in France at this time.
The game offers users the ability to care for, ride and race their own 3D horse as well as interact with an international horse gaming community. For more information on this game and to get started on the game play, visit their main web site at: www.my-horse-club.com
*images provided by and Copyright 1995 to 2009 by Horseland LLC., 2009 FTV LLC. and Mindscape 2008.