The Best Free Fireworks Games Online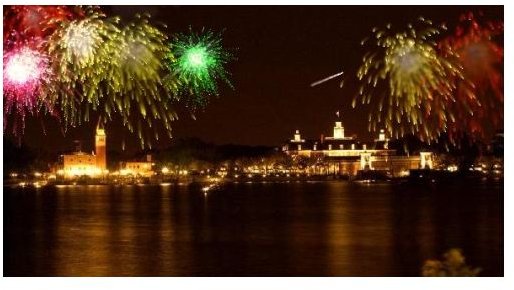 Fireworks Galore
Fireworks symbolize summer and celebration. It's an activity cherished by people of all ages. The phenomenon has branched out into the gaming arena with a variety of entertaining free fireworks games online. Start July early with a light show like no other right on your own PC. Incredible firework displays are no longer limited to the backyard this summer. Stay busy and engaged with classic fireworks games. Use them to set a festive mood or relax the mind with a myriad of vibrant dazzling colors. There are a handful of websites that cater to fellow fireworks lovers and feature free online games to play. Most of these websites include a gaming community to allow users to connect with other gamers and participate in fun activities. Create your own sparks this season by playing one of these free fireworks games online today.
Types of Free Fireworks Games Online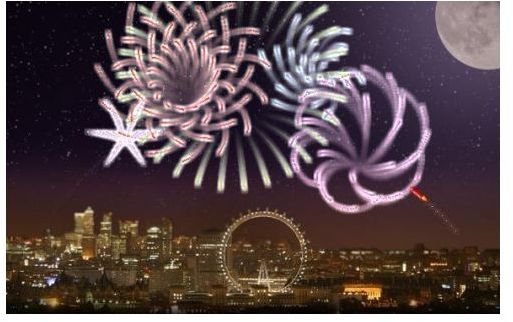 Miniclip.com has a really fun fireworks game. Simply titled Fireworks this version takes players flying sparks over scenic London. The quicker you can click the shooting sparklers the more points you earn. If for some reason you miss a firework the game will be over. Players must move fast to keep the light show going. The Flash graphics are extremely beautiful. To save your highest score and compare it to others, sign-up is required. Miniclip.com makes this process simple for users. They also include lots of free online action, sports, and puzzle games. A full extensive online game list, stats, and community comes with free membership. Any fireworks or free online gaming fanatic will enjoy the benefits of playing on this site.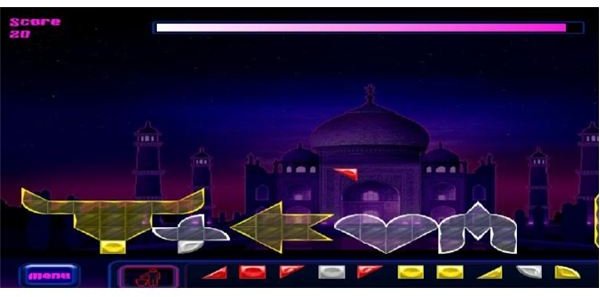 HeavyGames.com features the Fireworks Extravaganza Game. This inventive game plays in several modes such as arcade, pick-n-place, and rolax. You need to download the full version to play all modes. The rolax mode is the only option that gamers can play for free on their browser. In this game players must select the appropriate gems and place them into empty fireworks. Use the space bar to rotate or adjust pieces as you move. When the puzzle is complete a firework show ignites.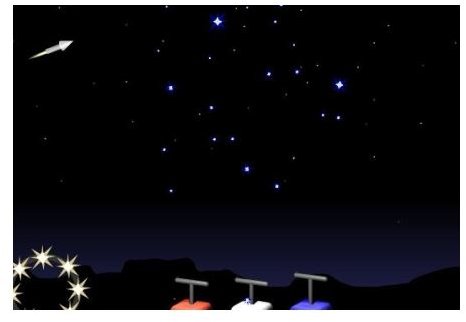 Ezone.com's firework shooting game lifts players to new heights. In this sizzling free fireworks game players launch color coded rockets into the air. Click the matching colored detonator at the bottom of the screen to set off the rocket when it begins to glow. The speed of the flying rockets increase as the game progresses. Players must keep up with the pace of blasting rockets. As they ignite a fireworks show displays along with the number of points earned. If you miss several the game ends.
Fireworks Interactive Website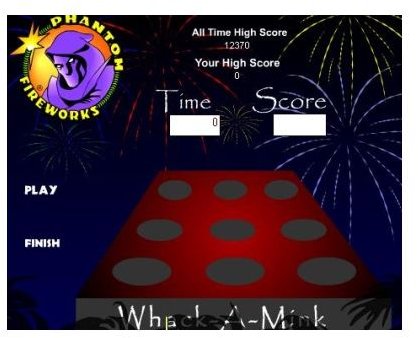 Fireworks.com hosted by Phantom Fireworks features everything fireworks related you can possibly need including free games. Users can upload their favorite pictures to be used in a virtual fireworks show. Select a picture of a historic city, landmark, tourist attraction, or your own home. A creative fireworks show displays in the picture automatically. Have others rate it or save the picture to your desktop as a Fourth of July screensaver. There is also an assortment of colorful firework screensavers for Mac and Windows systems. If you feel up for a challenge click on their Trivia Game to test your knowledge of fireworks or start playing one of their free fireworks games online.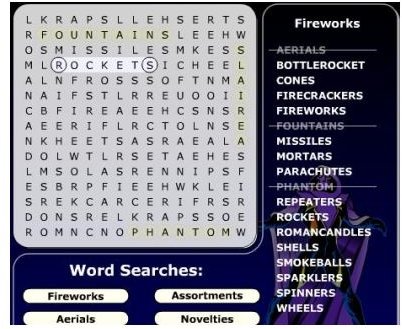 This website has two fun interactive flash fireworks games to choose from. The first free to play game is Phantom Fireworks Whack-A-Mink. This game tests your skills against wacky Pyromaniacs. The objective is to hit the most minks while racing against the clocks. Fireworks pop and crackle in the background. The second free online game is Phantom Flash Fireworks Word Search. This fireworks themed crossword puzzle is a brain-teaser. Unlock the hidden words and solve the puzzle. Both games require Shockwave Flash to fully operate but it is free and easy to download and install, if you don't already have it.