Dragon Age 2 Romance - Anders - How to Build a Relationship with Anders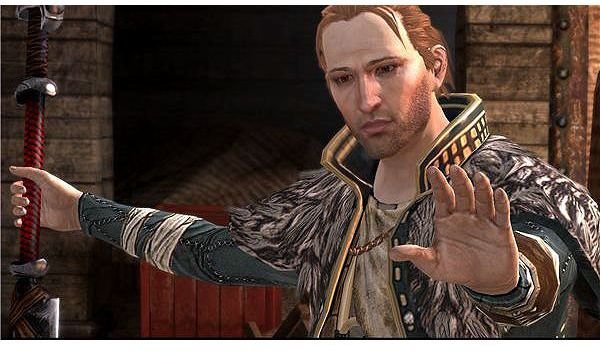 Dragon Age 2 Romance - Anders
Those who have played Dragon Age Awakenings will remember Anders as a companion character in the game. He is an apostate mage. When you encounter him in Dragon Age 2 you discover that he is inhabited by "Justice", a spirit that sometimes takes control of him to do violent acts. With these things in mind, having a relationship with Anders can be complicated and dangerous.
Dragon Age 2 Romance - Building a Relationship with Anders
During the game, there will be occasional opportunities for conversation with Anders. Win his heart by flirting with him at anytime dialog will allow. Flirty comments can fall under the "investigate" category as well as be incorporated with the regular comments when dialog appears. These will appear as heart icons.
Anders is a sensitive and passionate person. In your conversations with him, avoid choosing any joking comments that could make fun of him or go against apostate mages.
The first time you will have a chance to flirt with Anders will be shortly after he has a conversation with you about Justice. The next opportunity will happen in the second act of the game after completion of the Deep Roads expedition.
By the second act of Dragon Age 2, romance is possible. Your friendship with Anders should be solid and high in the friendship range. To take it to the next level, all conversations from this point will require expressing your feelings and your sincere intent with him. Anders will constantly try to convince you not to get into a relationship because of him being an apostate (and being inhabited by an evil spirit). He is very sensitive and will only get involved with you if your intent is serious.
Conversation with Anders in the First Act – Anders Clinic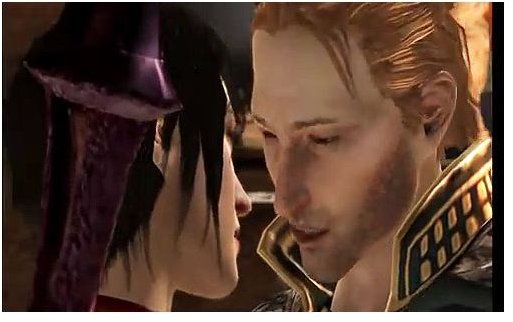 Your conversation with Anders in the first act can take your relationship to the friendship state. In the dialog, you should make the following choices:
After Anders mentions the Templars and the danger to him, it is obvious that he is concerned about your intentions with him. In the dialog say "You need a safer place", "I will keep you safe" and "Stay in control." Anders tells you that if you tie yourself to him, that you will only get hurt. Respond by saying "I can't let you go." The result of this conversation earns you +30 friendship points.
Conversation with Anders in the Second Act
By the second act of Dragon Age 2, your friendship with Anders should be solid. To increase your friendship further, help Anders stop the mages that are turning other mages "Tranquil". This companion quest is called Dissent. It will open up for you after completion of the Black Powder Courtesy main plot quest. In this conversation, make sure you agree to help him and ask how you can stop them. The result of this conversation will give you +5 friendship points.
During the Dissent quest, Anders loses control and Justice takes over temporarily and helps you eliminate the threat that was making mages "Tranquil". After this Anders decides he needs to be alone. When he leaves, be sure to pick up the letter from Sir Aric's corpse.
Dragon Age 2 Romance Guide - Anders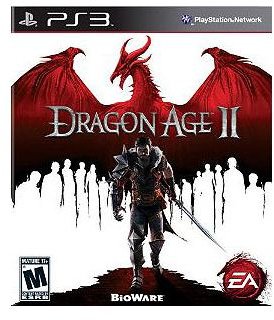 After Anders leaves abruptly (in the Dissent quest) go visit him at his clinic in Darktown. When you arrive at the clinic, show Anders Sir Aric's papers. Anders will be happy with this information since he finds out that the other mages were against the "Tranquil Solution". This conversation will then open up the Questioning Beliefs companion quest with Anders. Leave Anders clinic and then go back in to trigger the conversation.
Questioning Beliefs
At this point in Dragon Age 2, romance is just around the corner. Your relationship with Anders has potential to go to the next level. Anders talks to you about how you don't have to stick out your neck for mages. You say in the dialog "I'm doing it for you". This results in your character saying that you couldn't' stand it if Anders were locked up.
Anders then goes on to tell you that he can't be expected to resist forever if your teasing continues. Obviously if you want a romantic relationship with Anders, your intentions need to be sincere. Tell him "Kiss me". This results in your character saying "I don't want you to resist". Anders kisses you passionately. The conversation then continues with Anders telling you that the two of you could die tomorrow and that he doesn't want it to be before he tells you how he feels. At this point in the dialog, say "I love you". Anders tells you that he cannot give you a normal life, and if you are with him, you will be hunted and hated. He then goes on to say that he will go to your room that night. Leave Ander's clinic and go to Hawke's estate.
Questioning Beliefs Continued – Solidifying your Romantic Relationship with Anders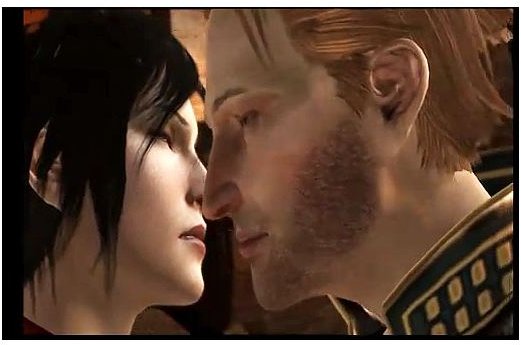 Continuing with this Dragon Age 2 romance guide, know that you arrive at your home the encounter with Anders is unavoidable. When you walk in, Anders tells you that Justice does not approve of his obsession with you. Tell Anders that you are glad he came over to see you. At this point a passionate kiss and an intimate encounter will follow. Note: If you have been involved with another character (like Fenris) Anders will ask you about it before anything else can happen. If you want the relationship with Anders, you will need to break ties with anyone else you may have been involved with. Tell Anders that there is no relationship between you and the other person mentioned.
After consummating your relationship, a new dialog begins. He talks about how he has been pining for you for over three years and reiterates his concern with your character getting involved with him. Anders tells you that he loves you. If you want the relationship to continue tell him that you love him too. He then asks you if you are willing to let the world know that you are involved with an apostate and that he will live with you in your home. Tell him "yes". At this point, you are now in a committed relationship with Anders.
References
Screenshots created by Sheila Robinson.
Information given in article from Sheila Robinson's gameplay.
This post is part of the series: Dragon Age 2 Guide to Romance
In Dragon Age 2, there is opportunity for players to have romantic relationships with other characters. This series discusses the dialog, quests and other things you will need to do in order to win the heart of your favorite character.