Best Horse Racing Game Websites - Horse Games For Free Online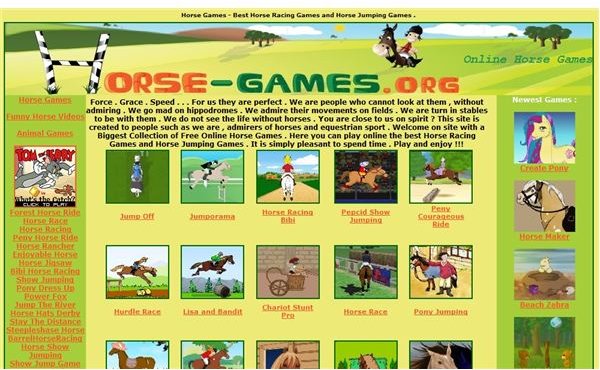 Horse-Games.Org
Horse-Games.Org is one of the best websites online for horse racing games. Created for the genuine horse lover in all of us, it features over 50 cool horse games. Horse-Games.Org hosts hundreds of interactive flash games for online players of all ages. Users can spend the entire day playing their free horse riding games. Browse through pages of indexed virtual horse games. When you find something interesting simply click it and the game will play directly in your browser. Although, some free game hosting sites are cluttered with annoying pop-ups Horse-Games.Org is different. Geared towards a younger gaming audience there aren't a lot of pop up ads on this.
Free Horse Jumping Games
Popular free horse jumping games like Jumporama and Lisa and Bandit are players' favorites. In Jumporama you enter a fast paced hurdle jumping race. Players must race their horse swiftly leaping over hurdles. If you jump too early or late your rider will fly through the air falling flat on their face. Ouch! The controls are pretty much automated. Once you hit the forward arrow key your horse races through the course. Press the space bar to jump. Keep up with the pace to score high. The Lisa and Bandit game varies slightly in pace. Players have the option of gallop or walk during the ride.
Horseland.Com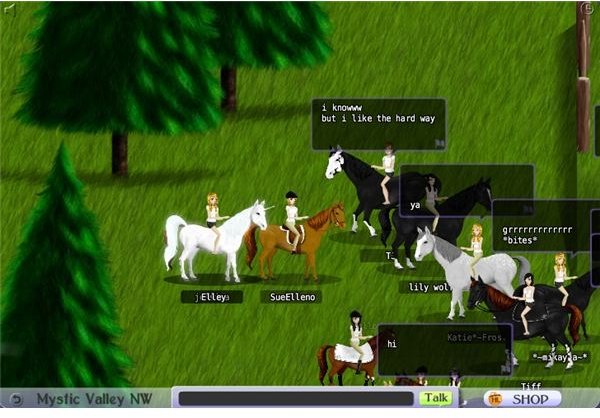 Horseland.com lets players enter a 3D world of horse lovers. The beautiful graphics and layout give users an outlet to play virtual horse games, customize your own horse, breed it, race, design jumping shows, and connect with thousands of other horse lovers. A unique feature in Horseland is the exploration. Players have a huge virtual world that they can ride their horse through. Areas like the Eastern Caverns, Mystic Valley, Regal Orchards, and Mossy Forest is loaded with adventure. Chat with other riders or practice your jumping skills for the next round of horse riding games. The atmosphere and graphics in Horseland.com makes it a noteworthy horse games website.
A Virtual Horse.Com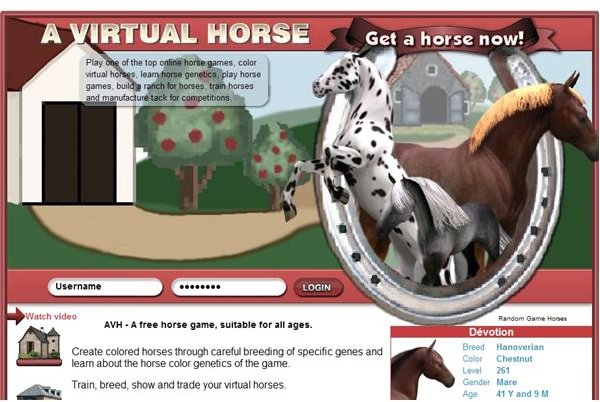 A Virtual Horse.com is for more technical horse lovers. This website is designed for players who want to experience training, breeding, and racing horses in a virtual environment. You can play virtual horse games with players around the world. Players learn in-depth information about horse genetics at A Virtual Horse.com.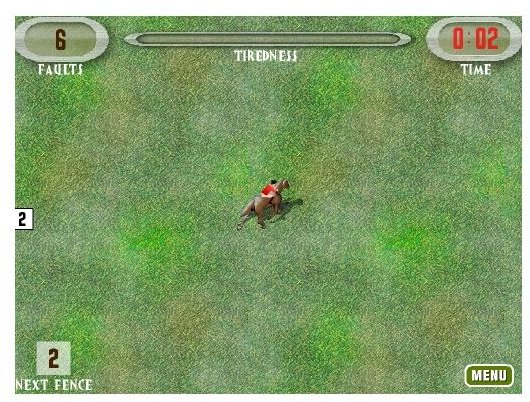 The activities at this site are endless. Players can breed their prize horse to be a winner, work as a vet or stable hand, build a horse ranch, chat with friends, and create a personal horse blog. At any time players can click the horse games tab and play fun free flash racing games like ShowJumper. Users have to race against the clock in this horse racing game. Jump over walls, fences, and other obstacles as you try to make the best time. If you want a large community to interact with than A Virtual Horse.com is the right place for you.