Five Top Business Strategy Simulations - Industry Player And Airport Tycoon 3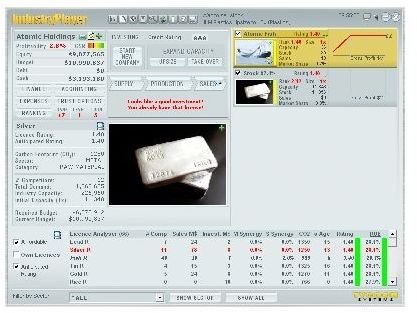 Serious Business Simulations
There aren't many serious business simulations available but the examples featured here are some of the best money can buy.
If you are looking for something more serious than your typical tycoon games then look no further. Forget the faux detail of ordering enough salt for your theme park's french fries. Are you going to open this new airport in Hong Kong and take advantage of new trade and holiday destinations? Are you going to develop this plot or buy the already built block across the road overlooking the Statue of Liberty?
These are just two choices in this round up of five top business simulations in which we look at Industry Player, Tycoon City New York, Capitalism 2, Airport Tycoon 3 and Hollywood Mogul.
Industry Player
Only
available via download, Industry Player is hardcore business gaming. In charge of your own holding, you have the opportunity to set up 5 individual businesses based on the advice given by virtual assistants.
Pages of statistics and stock values, revenue totals, EBIT data and much more are presented throughout each turn of the game. It's possible that Industry Player really is the closest thing to actually running a business.
Then again, it could be said that all of the fun of running a business is missing. There is no tax man, accountants or staff issues. Industry Player is less a business sim and more of a fantasy investment sim, placing you in charge of wise investments with all of the dirty work done by subordinates.
Another key difference between Industry Player and the rest of the games features here is the competition. Some of the other games have optional multiplayer modes, but only Industry Player pits you against other online gamers
Visit www.industryplayer.com to download a 60 minute trial.
Airport Tycoon 3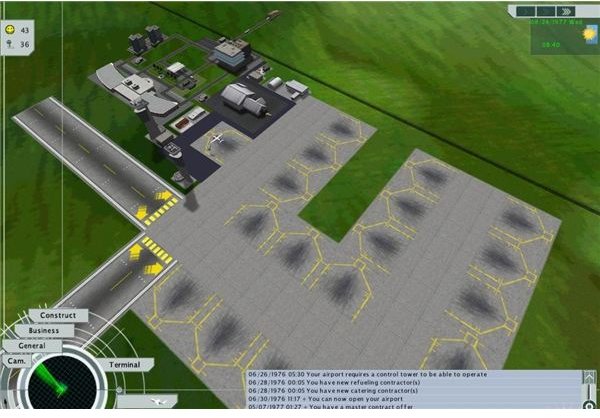 The latest entry in the series, Airport Tycoon 3 once more puts the player in charge of a global network of airports. Managing the construction of the runway to the hours of the baggage handlers, Airport Tycoon 3 is a micro management sim that offers some superb visuals as well as the expected satisfaction from a development well done.
Attractive graphics lend themselves to watching the aircraft that your airport's service and the game offers a breathtaking chance to forget about the intricacies of running a business by displaying beautifully realised aircraft taking off and flying from location to location.
Airport Tycoon 3 has lots to offer both strategy fans and business sim fans and holds pride of place in this round-up.
Hollywood Mogul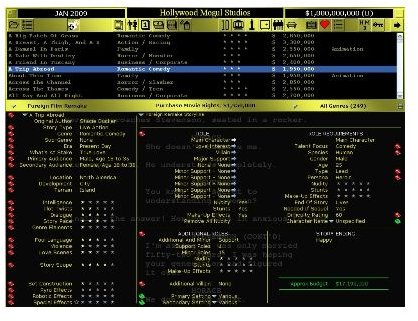 If you like movies, Hollywood and really tough to understand games, Hollywood Mogul should suit. Basic graphics and bad visual presentation disguise a complex game with plenty of detail.
Sadly the help file is next to useless and various game options are hidden in plain view (a sign of bad interface design). Despite the problems the game covers so many aspects of the current studio movie making system that this can be forgiven if you're a real industry enthusiast.
Interesting embellishments in the game are scripts, in game character photos and the chance to purchase cars, property, yachts and other status symbols as your career builds.
Success depends on a few low budget movies making good money, a raise in reputation and the chance to make some blockbusters.
Visit www.hollywood-mogul.com to play.
Capitalism 2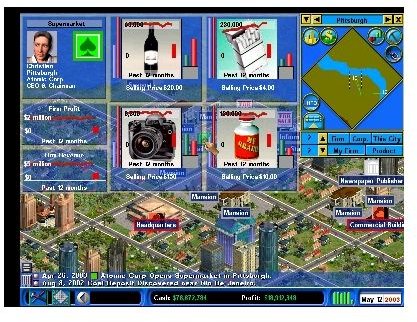 If instead you're looking for something with a tutorial so that you can get started straightaway, Capitalism 2 would be a good choice.
This is a business game that would be tough to engage with if there was no tutorial. Thankfully the game keeps it simple to start with, offering a Sim City-like view for the player to take a look around and kick off their career as a local tycoon by reversing the fortunes of a local supermarket.
With options to expand into manufacturing and property, Capitalism 2 is lots of fun but certainly for the entry level business gamer.
Tycoon City New York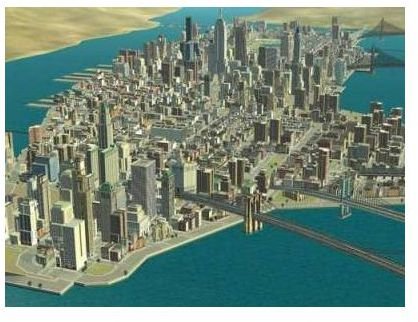 Tycoon City New York throws $100,000,000 at you and asks the question - how would YOU have built New York?
Investing the money into property in the city, Tycoon City New York puts the player in an enviable position forging the look of the world's most famous and recognisable city, choosing where some legendary landmarks will be situated and making plenty of money in the process.
The Sim City comparison is there again, but in Tycoon City New York it is purely to do with the building of the landscape of a 1000 movies. Money management is far more important here and whether you play the sandbox "do what you want game" or the Build New York mission mode (in fact even if you lose) this is one of the most satisfying gaming experiences.
Play the demo of Tycoon City New York by visiting www.atari.com/tycooncity.