The Best Truck Simulators For PC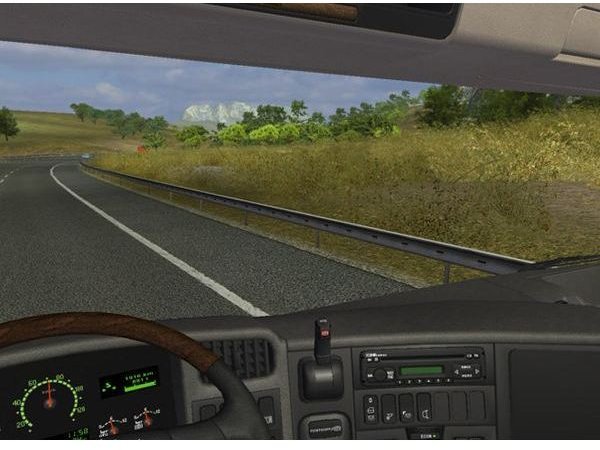 Three Great Truck Sims
Like aircraft sims and train sims, truck simulators enable you take a new look at the world - and enjoy one of those jobs and lifestyles that few get a chance to try.
With a truck sim, you can really enjoy the feeling of being out on the open road, hauling cargo from one town to the next.
There are several truck simulators on the market - but the following are three superb entries in a niche simulation genre that are great fun and can be enjoyed by anyone, trucker or otherwise!
Euro Truck Simulator
Thrusting you straight into the cockpit of a heavy goods vehicle in a city of your choice (I picked London), Euro Truck Simulator offers the chance to pick up and deliver cargo to the biggest cities across Europe.
Drive f
rom London to Munich shipping apples, or haul tomatoes from Rome to Amsterdam - the game offers a semi-realistic driving experience with well-realised roads and accompanying landscape, traffic and other hazards to negotiate not to mention the joy of the final moment when delivery is made, your cargo is delivered and your truck uncoupled from the trailer.
With Euro Truck Simulator there is one key challenge to remember on pan-continental deliveries - the British drive on the left, while the rest of Europe drive on the right. There's plenty of scope for confusion as you arrive with your truck in Calais!
Sadly this challenge also comes with a drawback - the trucks are all left-hand drive.
Get a free trial of Euro Truck Simulator.
18 Wheels of Steel: American Long Haul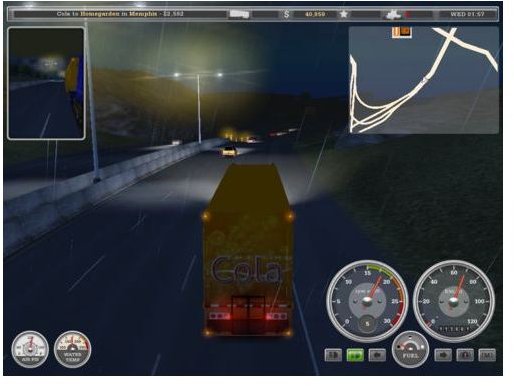 The 18 Wheels of Steel series has been releasing highway hauling adventures for the last 6 years and 18 Wheels of Steel: American Long Haul is the latest in this long line of games.
It's particularly notable for it's hugely increased play area - the United States, southern Canada and northern Mexico are all represented by in-game maps, with 44 cities to deliver cargo to and from.
Gameplay on all of these truck simulators is pretty much the same, but it's augmented slightly with 18 Wheels of Steel: American Long Haul thanks to years of development. One particularly realistic aspect of driving is the attention that you need to pay to both side mirrors, and this can only be done by sweeping your mouse left and right to simulate the movement of the drivers head in checking both of these.
Check out the Free trial version of 18 Wheels of Steel: American Long Haul.
Hard Truck 2: King of the Road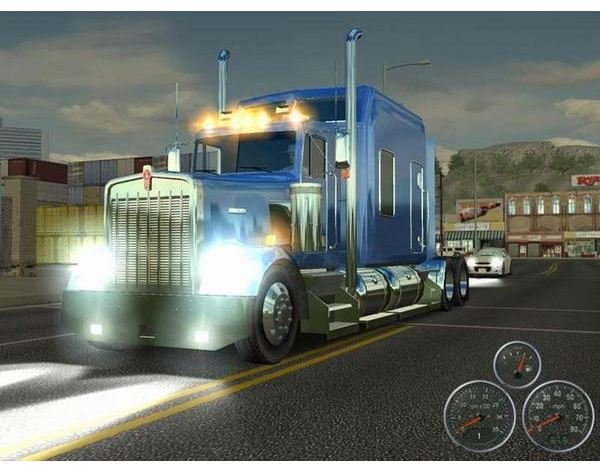 Back in Europe, Hard Truck 2: King of the Road offers a vast list of vehicles to take on the transport challenge, including a bus, a BMW M5 and various different models of cab (DAF, Volvo, Mercedes-Benz, etc).
As an older game, Hard Truck 2: King of the Road is a graphically less sophisticated entry into this list than Euro Truck Simulator and 18 Wheels of Steel, Hard Truck 2: King of the Road. Nevertheless it meets other standards such as differing dashboards from truck to truck, not to mention a soundtrack by heavy the metal band Aria.
Curiously, Hard Truck 2: King of the Road also features a set of fictional European cities, although this shouldn't dissuade if you're looking for a good drive as the game plays very well.
Looking For Different Trucks?
There are of course other types of truck - fire trucks, farm vehicles and of course buses. Few of these have the benefit of their own game dedicated to them, although there are a couple of bus simulators.
If you're more interested in the strategic element of managing a truck or haulage business and guiding cargo across a continent, there are a few online games (such as Truckz) that you might be interested in - alternatively, one of the games from the Transport Tycoon series could be just what you're looking for, or failing that Hard Truck Tycoon. Earlier versions of Hard Truck meanwhile are racing games, while some feature on road truck combat.
In the meantime however, there are three great truck sims above, each with their own set of missions and skills.
Try them out - and keep on trucking!