Five Great Free Online Browser-Based War Games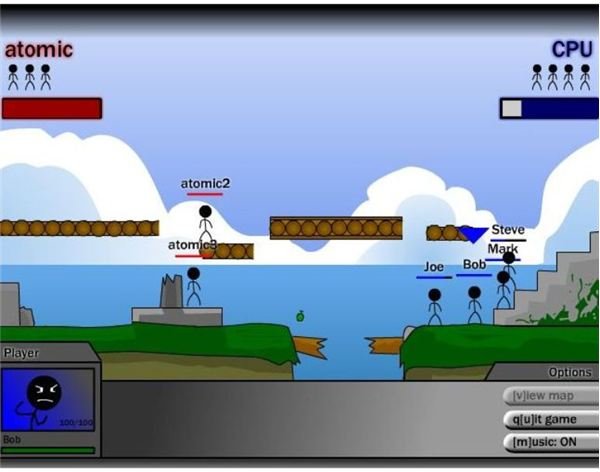 5 Browser-Based War Game Thrillers
Emulating classic arcade games, updating old ideas and giving the payer the chance to act out classic war scenarios – these are the key elements of online war games, and these five browser-based thrillers are great examples of the genre.
Some of the most playable games in existence are accessible only via your browser and this selection of top browser-based wargames is no exception. This list mixes first person shooters, strategy, top-down shoot-em-up and Worms-style landscape jump and shoot.
Territory War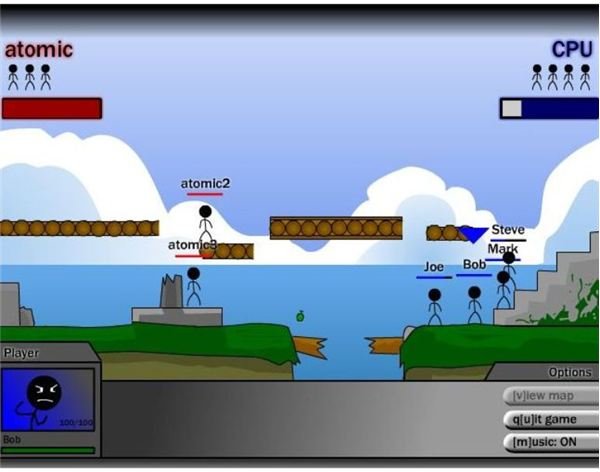 Territory War is great fun, particularly for fans of stick men throwing bombs, shooting or kicking each other! Very similar to the classic 2-D Worms (or the even older freeware title Tanx), two teams of four stick men fight to the death. Each stick man is equipped with limited movement per turn and weapons such as grenades, bombs and boots to attack the opposition on a platform game-style landscape.
This is good, old fashioned addictive fun that takes some of the best basic features from Worms and reformats them for the browser-based platform. The skill is in the aiming of the weapons, judging the elevation and strength of either a grenade or rifle, or getting close enough to stick the boot in.
Basic but fun graphics are nicely complimented by an astonishing thrash/death metal soundtrack. Territory War adopts easy to use controls, providing ease of gameplay.
Flying Steel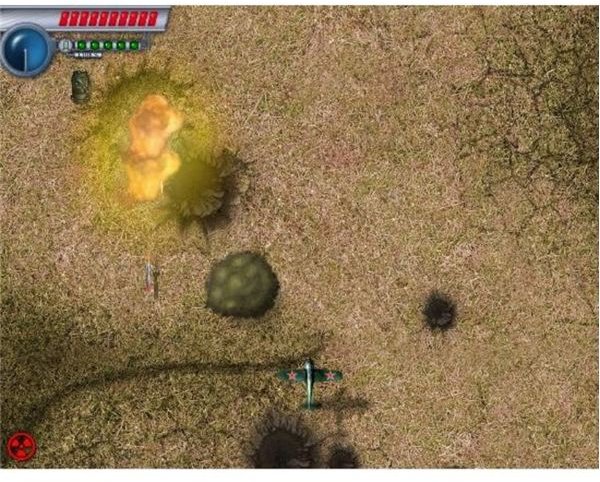 Reminiscent of the classic 1942 arcade top-down aircraft shoot-em-up, Flying Steel pits the player against an ongoing barrage of turrets, tanks, enemy aircraft and rockets.
I was always a fan of the old up-screen scroller shoot-em-up, and despite the relatively small play area in the browser window, Flying Steel is remarkably easy to control with the mouse and space bar, with a selection of bonuses to pick up throughout the levels such as extra bombs, health and temporary weapons boosts.
Flying Steel has some nice, polished aircraft graphics and some surprising detail in places. With a secret weapon – a mini nuke to clear busy screens and prevent being overwhelmed – Flying Steel is addictive and fun arcade war action, nicely finished off with a classic military war movie soundtrack and quality shell firing and explosion sound effects.
More Online War Games: Warfare 1917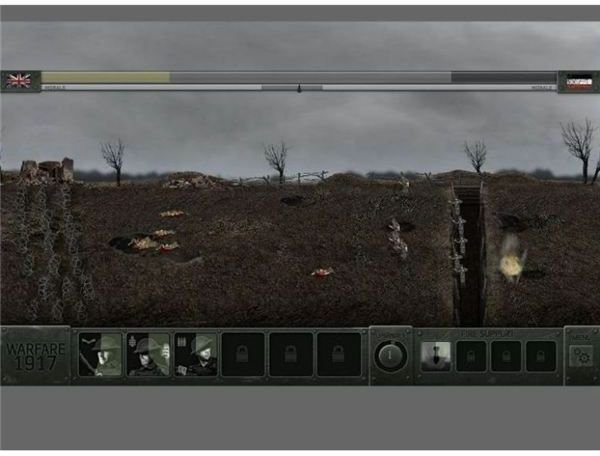 This is a slightly harrowing game in some ways – the aim is to send your trench-dwelling British or German forces (the choice is yours) "over the top" into No Man's Land and attempt to storm the opposition trenches, attempting to fight the First World War one battle at a time, gaining as much territory as possible.
An XP bonus system attributes points to "spend" on upgrades, for anything such as rum for morale, helmets for protection and enhanced ammunition. New types of soldier are introduced throughout the game, such as an assault team armed with pistols and hand grenades, while a mortar bombardment can be called upon after so many minutes of gameplay to rain down on the opposition – a good reason to build up your squads and send them over the top to coincide with these aerial attacks.
It's pretty close to how the war itself was fought, with your men being cut down by rapid rifle fire. Warfare 1917 is certainly the most involving of this selection of online war games however, mixing dark graphics and solemn sound effects with the stark reality of trench warfare.
Palisade Guardian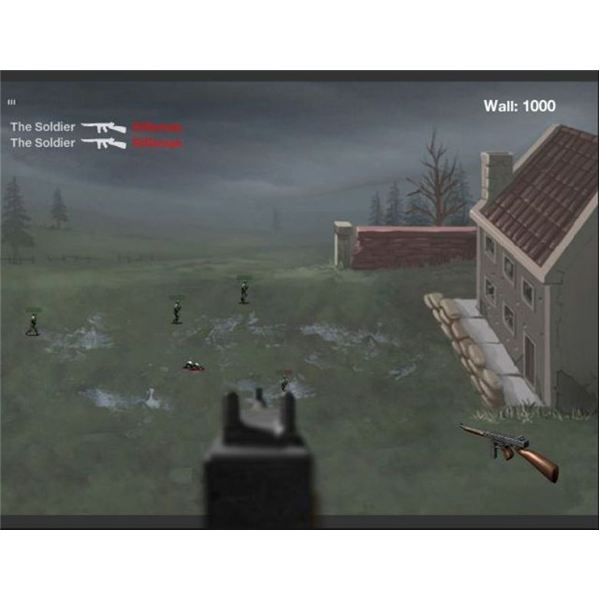 Pitting the player as the lone defence against an oncoming storm of enemy combatants determined to break down the walls of a house to retrieve secret papers, Palisade Guardian is a static sniper first person shooter, giving the player a range of guns to upgrade to throughout the game.
The enemy advances with better and better weapons as the levels progress, and beginning with a machine gun, the player progresses through a range of guns and rocket launchers to defend the house.
Each level sees the enemy advance with greater purpose, unleashing a brigade of soldiers and cannons against the property which sustains damage with every hit – a level of damage that isn't restored with each new level, bringing a degree of realism to proceedings, and making each choice of weapon absolutely vital.
Graphically the game is functional, with typical shooter sound effects. It is incredibly playable however, with an amazing sense of injustice and frustration when the walls are finally breached!
Age of War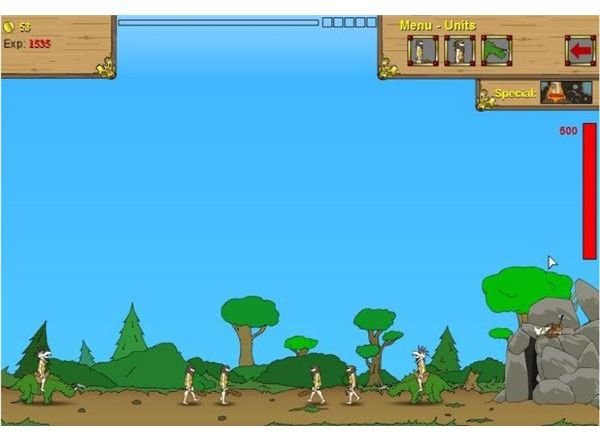 Reminiscent of the mobile phone game Civilization IV War of Two Cities, Age of War features a player controlled tribe against a computer controlled one, with units built and dispatched based on the gold awarded for the defeat of each enemy unit. As the game progresses it's possible to step up into a new era, with the player starting his or her endless war in the Stone Age and continuing with a range of additional turrets and "religious weapons from above".
Gaining dominance over the opposition is quickly possible – however inflicting defeat is not. Each death inflicted by either team earns credits for the creation of new units. The price of these units increases over each phase of game play (for instance a club wielding caveman costs 15, while a swordsman from the medieval era sets you back 50 credits) as do the prices of turrets and moving into the next historical phase. While gaining a further advantage in doing this is possible, the computer controlled opposition is also capable of buying new units and upgrading turrets.
It's an odd game, strangely addictive and lots of fun, although the difficulty level is set high.