The Best PC Steering Wheels and Pedals - Top 10 Steering Wheel and Pedal Kits for PC Racing Games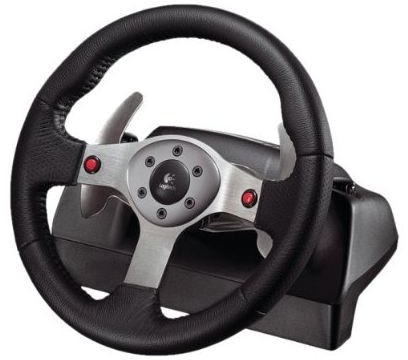 Racing Game Accessories
Fans of racing games on the PC are always looking for ways to make the experience that little bit more authentic and immersive. You may have the latest racing title and a high end system to run it on but if you want a real driving experience you need to invest in a PC steering wheel. You can get your hands on all kinds of PC game controllers nowadays and the accessories market has exploded in recent years so you might even consider a clutch and some pedals too. In this article we'll take a look at the top ten racing game accessories on offer.
Logitech G25 Racing Wheel
One company that has established a dominant lead when it comes to PC accessories is Logitech and they produce all sorts of products to enhance your gaming life. This PC steering wheel plugs into your PC via USB and it is one of the most popular available. It is also pricey enough to put off casual shoppers. At around $300 this is aimed at gamers who love to drive. The wheel has 900 degree rotation with dual motor force feedback and it clips snugly onto your desk. It also comes with a six-speed shifter featuring push down reverse gear and a set of three weighted pedals, accelerator, clutch and brake. Crafted from stainless steel with a hand-stitched leather overlay racing game accessories don't come much better than this. The Logitech G25 is a very popular option for gamers seeking a PC steering wheel and pedals and it is tough to beat if you have a big budget.
Logitech MOMO Racing Wheel
This was designed by racing professionals at MOMO so you can be assured of an authentic feel. It is a rubber steering wheel with force feedback technology and there is a gear stick attached. The unit clips onto your desk, the wheel has 240 degrees of rotation and there are six programmable buttons. There are also two pedals (accelerator and brake) on a separate unit for under the desk. This comes in at under $100 and while it doesn't have the same quality as the G25 it is a good choice in this price bracket with overwhelmingly positive reviews.
Genius Twin Wheel F1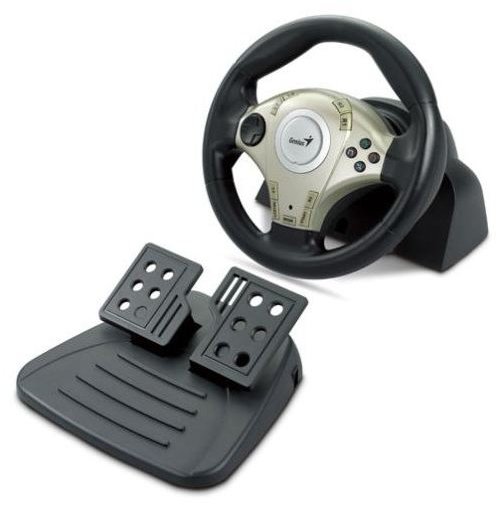 This is a great racing wheel for under $50. It features force feedback for vibrations when you bump competitors or crash. It also includes a D-pad and four action buttons and you can clamp it to a desk or sit it in your lap. There is also a separate unit with brake and acceleration pedals for the floor. The wheel mounted paddles allow you to switch gears easily but the lack of a proper gear stick does detract from the experience a little, still for this price you can't really complain.
Microsoft SideWinder Precision Racing Wheel
This steering wheel is perfect for people on a budget. It has a clamp for easy attachment and a separate unit with two pedals. There is no gear stick but there are two triggers for changing gear and the wheel also features eight programmable buttons so you can configure it for any game. You can probably find one for around the $30 mark.
Thrustmaster Rally GT Wheel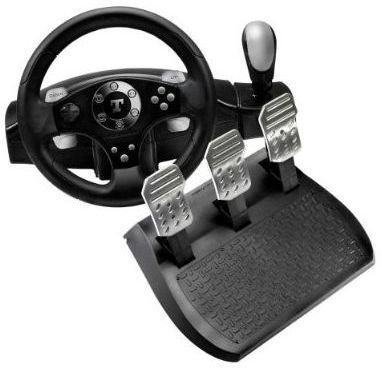 This is a five-axis wheel with a set of three pedals and a full size gear stick. It has force feedback and a belt driven gear system. Combined with the adjustable pedals, accelerator, brake and clutch this gives you a realistic driving experience. You can configure the wheel and pedals depending on your preference and Thrustmaster claim the build quality is high. It certainly looks the part but there are several negative reviews for this wheel and with a price tag around the $130 mark you can understand people expecting perfection.
Thrustmaster Ferrari GT Racing Wheel
This effort from Thrustmaster is much cheaper at under $50 and it features vibration feedback which can be turned on or off, there are two wheel-mounted digital levers for changing gears and the grip is rubber. It also comes with a two pedal unit and a clamping system. Apart from the Ferrari symbol in the centre of the wheel this certainly won't make you feel like you are driving one but as a budget racing wheel it is a reasonable option.
Logic3 TopDrive GT Wheel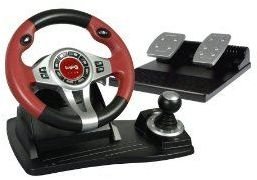 This is a steering wheel with a small gear stick attached on the right and a separate unit with two pedals. It is a ten inch wheel with a rubber grip and there is vibration feedback. The steering sensitivity is adjustable to suit your tastes and there's a button relocation feature. At $70 it seems a bit expensive but it is robust and it will work with your PS2 or PS3 as well your PC.
Interact V3 Racing Wheel
This is quite an old wheel which you can pick up cheap. It is a ten inch wheel with a 270 degree rotation and it features 11 buttons and a d-pad. It comes with a 2 pedal unit for the floor and you can adjust the tilt and height. The low price may make this a tempting option but it doesn't work with every system so make sure you read up before buying to avoid any disappointment.
Trust GM-3100R Steering Wheel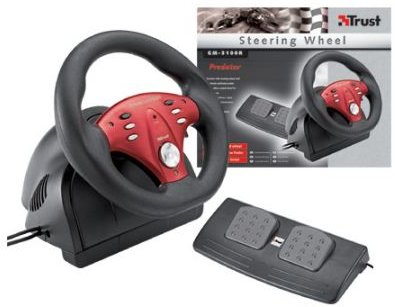 This is another steering wheel with a separate two pedal unit. It is robust with a rubber grip coating, 6 function buttons, 2 gear shift levers and an 8 direction view finder. There is also a clamp to fix it to your desk. It looks a bit cheap to me and it lacks force feedback which makes the $90 price tag seem a bit on the high side.
VRX Pro Series
If budget is no barrier and you want a racing experience second to none then you may want to check out VRX products. They actually make driving chairs and the Pro Series utilizes the Logitech G25 steering wheel along with a moulded racing seat that has its own suspension system and powerful speakers mounted behind your head. You might have to spend a few thousand but if it is racing perfection you are after the VRX series is the way to go. They also offer a product complete with three screens to cover your peripheral vision and a network set up for multiple consoles to stream the game from three separate angles. You won't find a more complete racing game accessory anywhere.
If you're interested in great gaming accessories then you may want to check out this article too: