From Darnassus to Shadowglen
To write this walk through with as much detail as I wanted, I created a level one draenei, because Arias was leveled too high to do the beginning quests, and explain them, with screen shots. When you see some of my screenshots, you will see the name that was chosen at random. The toon for these segments is a female Draenei hunter, named Phiia.
Your toon is rested and in Darnassus. She is almost level 3. Walk clear down the road to Dolanaar. You will make your home there. It is a five minute walk from Darnassus to Dolanaar. In the inn in Dolanaar, in the second floor, is the inn-keeper. Set your hearth-stone. There are Dolanaar quests, but resist the urge to grab them. The last thing a player needs is a cluttered quest log.
Walk straight to Aldrassil, avoiding the level 5 cats. I'm noting the beasts that you will find on the road, because a lot of players have not quested in this area. A level 5 cat is not a threat to a level 30 toon, but they can be quite deadly to a level 2 toon. You don't have the gold or even silver to do major repairs, so stay on the road.
Pick up the 3 available quests you see. Turn in one to Tarindella. She is the half horse/half woman mythical character, around 57.45. (75 Darnassus rep). For Balance of Nature, the young boars and nightsabers are everywhere. Kill them, turn the quest in. Pick up part two. (250 Darnassus rep).
Pick up the next 2 available quests. Do not skip Webwood Venom. The NPC is standing at 57.41. Vendor extras in Aldrassil. By now your toon is level 3. This might be a good time to upgrade your toon's armor. Pick up a Good Friend at 60.41. All three quests can be worked at the same time, and you don't need to go into the Cave of the North for the Webwood venom sacs. Remember the path where Iverron is sitting. Here are a couple of screenshots. He is not easy to find for a first time visitor to this area. The path to Iverron is 55.32.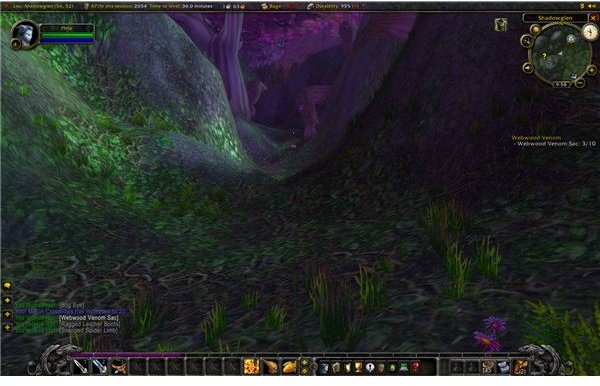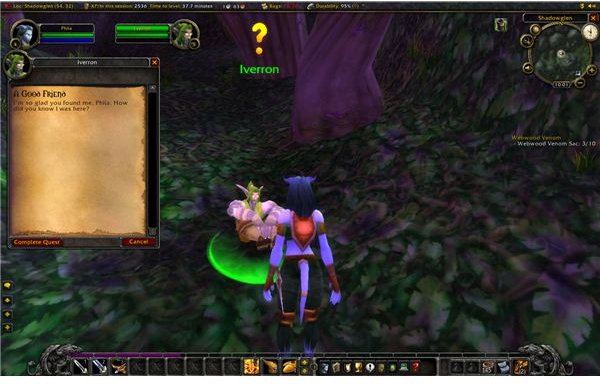 Your toon should have the Balance of Nature, part two. The grey mangy night sabers are the correct cats to kill. They are around this same area.Kill the Grellkins,and finish Woodland Protectors. Start killing the spiders. The drop rate for fel moss from the Grellkins is around 90%, as is the drop rate for the venom sacs.
Darnassus rep is 150 when you turn in the quest to Iveronn. Be sure to remember where he is. It is very important.
Finish Webwood Venom, and also continue to gather fel moss from the grellkins. If the grellkins drop the fel moss too slow, you can find them around the corner, at 55.38. When you are done with those quests, turn them in. Webwood Venom Sac is 250 rep. Woodland Protector is 250 rep. Balance of Nature is 250 rep. Your rep screen might look similar to Phiia's.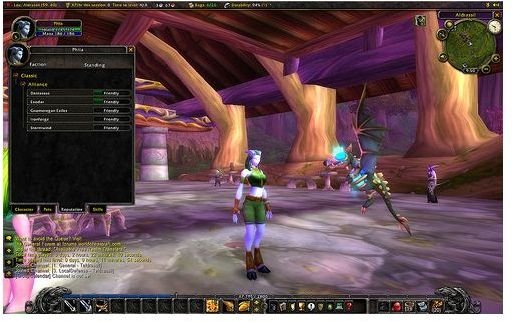 Grab the next Iveronn quest: Iveronn's Antidote. This is part of a chain that ends with the next quest. The third quest of this chain is often the first experience a player has with timed quests in World of Warcraft. If you picked up the Webwood Egg quest, after turning in Webwood venon, it can be done in the same area. It is in the very back of the cave. Both are worthy of a section devoted to them. The Webwood egg quest is the first quest for a beginning toon to experience Blizzard's cave system.
This post is part of the series: How To Reach Exalted with Darnassus
A series of articles based on every quest with Darnassus rep, for a toon who was created outside of Darnassus. Airias is a Draenei hunter placed in Shadowglenn at level 2 on a mission to be exalted in Darnassus. Rep amount will be followed and noted.