Prologue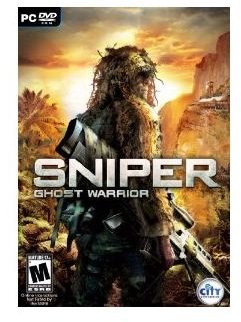 Many war games feature non scoped weapons as their main weapon for most of the missions of its game. However, Sniper: Ghost Warrior has taken a different approach by employing a scoped weapon as the main weapon. When you play this, as a member of an elite sniper team, it's your job to take clean headshots of high profile targets by sneaking through jungles of the fictional Isla Trueno. Can you do it in the middle of scary enemies who have x-ray eagle vision and the ability to blow your head with nothing but a machine gun? Continue to read and we try to answer the question in this Sniper: Ghost Warrior Review.
Storyline (2 out of 5)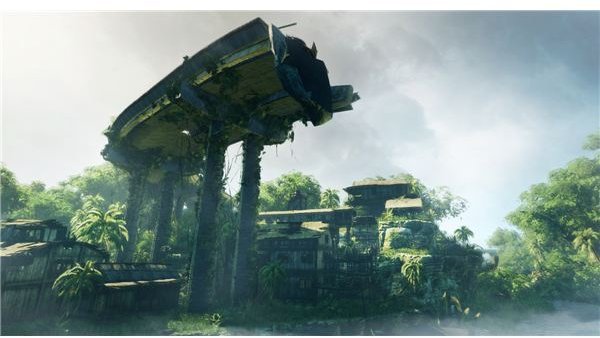 You play as Tyler Wells, a sniper in an elite US military unit in fictional tropical location called Isla Trueno. It seems like some bad guys have taken control of Isla Trueno and Yanks on the other side try to regain the control. Your duty is to help the good guys by killing the bad people while marking targets, saving the captives, and securing data. You have the help of onscreen dots and a gauge that tells the distance to the target location. Unfortunately you have only very limited data and almost no idea about what's really going on in this obscure place.
Ghost Warrior make an attempt to produce an engaging storyline, but it really fails short. If you already have played the pre-release demo that came with a promising storyline, Sniper: Ghost Warrior miserably fails to meet your expectations. The game has attempted to make it feel cinematic, but it makes no sense.
Gameplay (3 out of 5)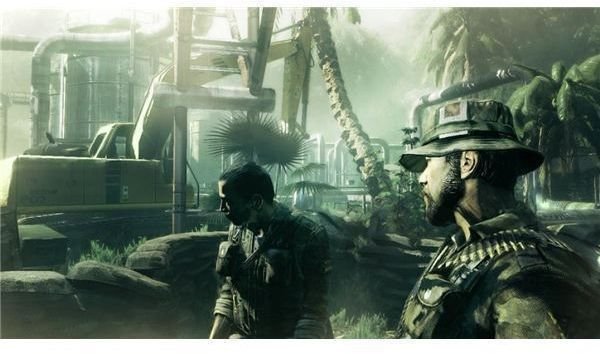 Majority of the game focuses on sniper duties as expected. In some levels your stealth skill will be heavily tested, while others deal with traditional first person shooting. Sniper shooting is quite satisfying when you made a clean head shot. In such moments you have the joy of watching bullet-cam view of your kill. If you are in the higher difficulty mode, you have to deal with wind, heart rate, gravity, and breathing when you use the sniper gun. This sniping engine is probably the game's best feature.
One of the poor aspects of the game is super power abilities of your enemies. Their shootings are extremely accurate and make it extremely difficult to survive once you are spotted. They can easily take you down with a pistol even you have the advantage of a good distance from your enemy. This makes it is extremely frustrating and unrealistic.
Stealth mechanism is even worse. Sometimes you're spotted even you're buried in jungle. Sometimes you are completely safe when you are behind a very thing tree that even a rabbit can't hide. Although there are several satisfying gaming moments in Ghost Warrior, they are overwhelmed by the insane difficulty you have to deal with.
Graphics and Sound (4 out of 5)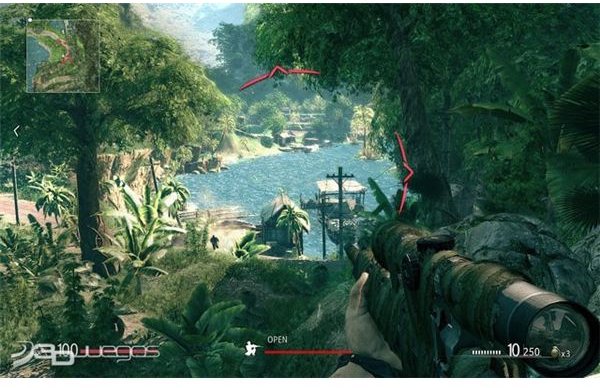 One interesting aspect of this largely ineffective game is its stunning graphics and sounds. You can enjoy greenish jungles, ancient ruins, and sandy beaches coupled with atmospheric sound effects that make feel like you are in the real Caribbean environment. Developers have made a fantastic looking game with the help of Chrome 4 engine that the same engine used for Call of Juarez: Bound in Blood. If you have played Call of Juarez you'll know what it means.
Multiplayer (4 out of 5)
Compared with the pc game of Sniper: Ghost Warrior, multiplayer hold some promise if you managed to go through the learning curve. In multiplayer there are no super powered enemies or extremely difficulty game play that makes it lot better than the pc version. Up to 12 players can take each other in snipe-fests in the multiplayer mode. Also maps are quite better than the pc version.
Overall (3 out of 5)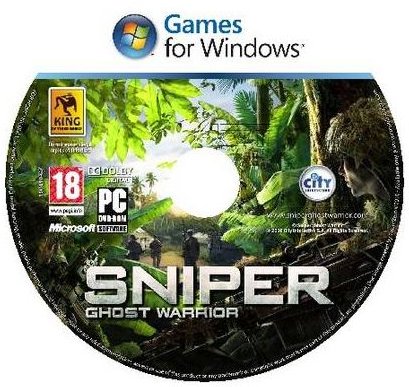 Sniper: Ghost Warrior has made a decent job when we analyze its realistic environments and sound effects. It miserably fails to become a top notch due to its extreme difficulty and brutal enemies. However, multilayer mode is extremely satisfying.
If you are a war gaming lover with an addiction to fast and furious combat missions like you experienced in Call of Duty Modern Warfare, I would rather say "sorry pal, "Sniper: Ghost Warrior" is not for you." However if you have the patience of a genuine special ops soldier, have time to spend hours trying to take down a single guy, and like to test your sniping skills in a virtual world, you may feel the satisfaction over your decision to buy this game.
Well, lot of critics. Forget all of these if you are yearning for some action. Remember, this is a cheap game that cost you only $18.99 at Amazon website.
System Requirements for Sniper: Ghost Warrior
CPU: 3.2 GHz or AMD Athlon 64 3500+
RAM: 1GB for XP or 2GB for Vista and 7
Graphics:Nvidia 6800 or ATI X1650, 256 MB RAM, Shader Model 3.0
OS: Windows XP (SP3), Windows Vista (SP1) or Windows 7
HDD: 6 GB
Sound: Compatible with DirectX® 9.0c
DirectX: DirectX 9.0c
This post is part of the series: Sniper: Ghost Warrior Reviews
Sniper: Ghost Warrior is a first person shooter game for those who love to play war games. If you are interested in knowing more about this game, make sure to read these reviews.